Rapunzel
Brad Fitt
Towngate Theatre and Simon Fielding Ltd
Towngate Theatre, Basildon
–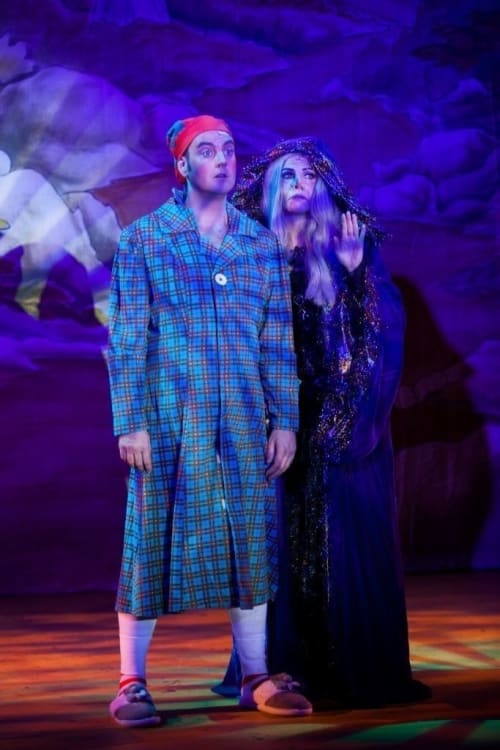 Since Disney's Tangled of 2010, Rapunzel has been seen at various venues across the country and is now one of pantomime's newest titles to have been embraced by producers. Last year the Towngate Theatre's audience voted it as the show they'd most like to see and they certainly won't be disappointed with this season's festive offering.
Writer of the past four Basildon pantomimes, Brad Fitt's fifth script for the venue uses the interval to mark Rapunzel's imprisonment, with act one focusing on the lead up to her eighteenth birthday and the wicked Ragwort's plan to enforce the King's contractual obligation to provide her with his daughter.
There is often a tendency in contemporary pantomime to make villains slightly comic in order to avoid scaring the children. How refreshing it is that the Towngate Theatre has embraced the pure evil of villainy with Sophie Ladds's terrific Ragwort terrifying adults and children alike as she menacingly cackles and threatens the audience.
The opening prologue is one of the most atmospheric in Pantoland as Ragwort is revealed lurking in the woods bathed in dry ice and a Women in Black moment behind a bleed-through gauze in act two is equally as chilling.
Fitt's script fully explains Ragwort's strong desire to hold the King to his word as only Rapunzel's hair can stop her aging process, which in turn also allows for a novel ending. However, further clarification is required as to why Rapunzel loses her mind when imprisoned and accepts Ragwort as her mother. Hints at magic spells and periods of time passing are present, but more needs to be done to explain the Princess's bout of amnesia.
In the title role, Grace Eccle makes for a perfect Disney princess with Nigel Peever as King Caractacus a wonderful comic actor who makes the role memorable. Having appeared in over thirty years of pantomime, Peever is one of the industry's true specialists and completely understands the performative mode required for the genre.
As Dame Dotty, Lincoln Hudson is a true delight and delivers his one-liners and witty asides with great aplomb as Ashley Emerson's dashing Flynn Rider makes the Principal Boy a truly heroic role model in his quest to rescue the Princess.
Back for his seventh year, Simon Fielding commands the stage from start to finish conducting proceedings as the show's Comic, whose name allows for many a double entendre as Dame Dotty asks the audience whether they've seen her little Schnitzel. A firecracker of energy from the moment he bounds on to the stage, Fielding whips the audience in to a frenzy and has everyone up on their feet joining in with this year's panto hit 'The Fox (What Does The Fox Say?)'.
As Schnitzel, Fielding works well with Hudsons's Dame Dotty creating the contrast, craziness and warmth required between the two roles, but the slapstick milkshake-making scene, which includes a comedy treadmill and lashings of milk, doesn't quite build enough and would benefit from an increase in pace and use of custard pie-esque foam slosh, rather than the flowing liquid used at present.
Full of musical numbers that buzz with electricity and life courtesy of choreography by Nikki Worrall and Fielding, the team of dancers and junior ensemble are incredibly engaging, as is Ragwort's speciality aerial act as she climbs Rapunzel's hair and begins her very own anti-aging process.
Mike Saunders's lighting design evokes atmosphere and setting in an instant through a strong use of colour and gobos and Kevin Oliver Jones's cartoon underscoring provides the piece with great energy and adds to the production's many comic flourishes, including a burst of the Nutcracker in the middle of 'Born To Be Wild'.
The Towngate Theatre has yet again produced a pantomime packed with plenty of fun and laughter, proving that Rapunzel is a worthy tale for pantomime adaptation and one we might just see more frequently in panto seasons yet to come.
Reviewer: Simon Sladen