The Ratcatcher of Hamelin
Alex Murdoch and the Cartoon de Salvo company
BAC
(2005)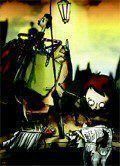 "This is a bit depressing for Christmas," was the worried warning from the BAC's management last February, when this show was first being developed.
But Alex Murdoch, her designer Becky Hurst, and the Cartoon de Salvo cast members have pressed on regardless in their own chaotic way (their description), creating a two-hour 30-minute traverse staging of the Pied Piper legend: a melancholy, often slow-moving affair, despite lively passages of music and dance.
What survives from a long gestation process owes more to dark 14th century fables and the physical demands of performance theatre, than to Robert Browning's rhyming lyric tale. It makes one long for them to get on with it.
Where he had plump, self-satisfied councillors with rosy cheeks and ermine trimmed gowns, most of Murdoch's cast wear what may be their own smart casuals; meanwhile Hamelin is represented by ingenious stacks of wooden enclosures, like those scary Dickensian paupers' coffins piled up in Mr Sowerberry's funeral parlour.
Browning's bustling rat population was made up of frisking prancers and whiskered old plodders: family creatures with hopes and aspirations you could have reasoned with if only you knew rat language. But here they are the unseen underworld of a chip-eating, litter-dumping society of binge shoppers.
A solitary little fellow represents Rattus rattus, a mechanical creature who at one point closely follows the Mayor around his council chamber. Otherwise the vermin are just red beady eyes along the skirting boards, or knitted black socks, sewn on to an effects sheet, suitable for wrapping-up in a plastic River Weser by the Ratcatcher of the title.
He — the piper — is a slim young villain (Dennis Herdman) dressed in a red leather jacket with a black heart firmly fixed to his sleeve, who turns up looking just like the Quentin Blake drawing, his topper sprouting a bouquet of flowers, but carrying an extraordinary musical contraption of cages and drones instead of the conventional bamboo pipe.
In this version the children make an early appearance, lads playing rough games in the streets, including Neil Haigh as the cripple boy who, hindered by his crutch, never quite makes it up the hazardously stacked Koppelberg Hill, and lives to tell the tale of the piper's promises to the Hamelin children.
But Browning's hinted happy end, a report of lost children turning up, across the mountains, in some Transylvanian paradise, is replaced by the old legend of a ban on all musical performances in a saddened town, deep in mourning for its lost youngsters; while the cast, one by one, surrender their many instruments to be put away in a safe place until the lively jazz finale.
With its use of striking incident and ensemble performance to replace Browning's narrative thrust, the show will please the many admirers of the Complicité style — indeed, the director has enjoyed workshops with Marcello Magni among many others in this demanding field.
For children this is perhaps an overlong, rather grim approach to Christmas entertainment, but at least its limber, hardworking actors, right from the start, do their best to create a sense of audience involvement and fun.
Reviewer: John Thaxter