The Rat Pack

Adelphi Theatre
(2009)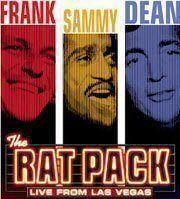 Though hugely popular, the new transfer of this long-running juke-box musical felt like little more than a very slick version of Stars In Their Eyes; all nostalgia and no nuance. The glossy programme informs us we will be transported back to the iconic Sands Hotel in Vegas, where Frank Sinatra, Dean Martin and Sammy Davies Jnr are in their heyday.
It's a baffling set up. There is no pretence at any kind of back story; merely a string of classic Rat Pack hits loosely strung together by the banter between the three friends. Given there is no writer credited, we can assume this badinage is lifted from the real show. Though the scenes in which all three men are onstage are the best, the bizarre lack of any plot means it is simply a pale imitation of the original with no spark, no danger and no sex in this pre-scripted improvisation.
Louis Hoover as Sinatra has captured the quirks and some of the sound of his voice, yet it is a curiously uncharismatic, unemotional performance. Gils Terera fares better as Sammy Davies Jnr, with an energetic stage presence and a moving rendition of 'Mr Bojangles', though he seems a little young in the role. The three "Burelli Sisters", who sing back up, dance, and flirt with the three men are gorgeously dressed, accomplished and well-drilled. Indeed, all of the performers have good voices, the band is great and the set beautiful.
Most of the show relies on the audience suspending their disbelief and pretending they really are watching their heroes. In fairness, many people around in the sold-out auditorium really seemed to embrace this idea, yet I couldn't shake the feeling this was a mechanical exercise in lucrative nostalgia. As Nigel Casey as Dean Martin sings, "We're making our producers very wealthy/now The Pack is back at The Adelphi." Hoover's solo encore of "My Way" only served as a reminder that this was most definitely not The Pack. Puzzlingly pallid, this left me cold.
Visit our sponsor 1st 4 London Theatre to book tickets for The Rat Pack
Reviewer: Beth O'Brien