Christmas with the Rat Pack Live from Las Vegas

Flying Entertainment
Wyndham's Theatre
(2011)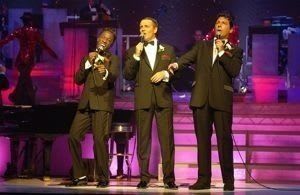 The Rat Pack Live from Las Vegas was first mounted in January 2000 (with a different cast and in somewhat different form) and it has been developing since then through tours and West End and still it is going strong. This is the first time I've seen it. "Tribute" shows aren't really my thing but "Hey, give it a go," I thought and I'm glad that I did for this is no ordinary tribute show.
There they are, seemingly in the flesh: Frank Sinatra, Sammy Davis Junior and Dean Martin or, as Martin describes them: Blue-eyes, Red-eyes (himself) and One-eye, played here by Stephen Triffit, Giles Terera and Mark Adams.
I never saw any of the real Pack live but, if they don't exactly match the images familiar from the screen or sound exactly like the records, in the first they are near enough and the second pretty close, and the impression they give seems decidedly authentic. But imitation, however good, is not enough to make a show: that depends on their own skills as performers and on the way it is put together—and this show works because it delivers on both counts.
While I am perfectly happy listening to a singer for the length of an act on a variety bill, sitting listening through a whole evening of just songs would strain my concentration. I need a more theatrical entertainment and that is what this trio gives you. It is not just that they are playing other people but those Las Vegas shows at the Sands Hotel, especially as here are very carefully constructed, however improvised they may seem. Handovers and transitions are carefully plotted, they are packed with jokes, some of them pretty corny private jibes about Sinatra's lack of hair, Martin's drinking (though they all play glass or cigarette in hand), comments on Davis being black and Jewish. They are all, and Davis especially of course, likely to burst into dance and there are the Burelli sisters, three leggy strong–voiced, jokily provocative, precisely kicking showgirls in support, played by Soophia Foroughi, Frankie Jenna and Grace Holdstock).
To put us in the Christmas mood, designer Sean Cavanagh has placed a huge Christmas tree, tastefully dressed with tiny white lights and baubles which change through single glittering colours and the band is fronted by panels lit to look as though hung with pearly decorations while behind them is a star-spangled backcloth. It has been gorgeously dressed by Christopher Woods. The boys are largely in black tie (though at one point Sammy Davis dons a Carmen Miranda headdress and Sinatra appears with flounced shirt and maracas) but the girls have some dazzling outfits in red silk and blue velvet with diamante drops, white silk fur trimmed, long red gloves and jackets glittering red sequins and later silver above those lovely legs.
Triffit's Sinatra opens with "Come Fly with Me" and the evening is packed with equally familiar and much-loved numbers with this special edition laced with Christmas favourites. The high spots include Terera's Sammy and Adam's Dean singing "Sam's Song" (which Martin claims is Dean's), a rousing "New York! New York!" for the whole company to end the first half and nimble Terera's "Mr Bojangles," though my favourite was his Sammy asking for a throbbing drum beat from the drummer and against it appearing to improvise a medley made up of beautifully segued lines from Christmas songs.
When current pop often seems to be largely incomprehensibly mouthed lyrics drowned out by the band with dazzling light shows to drive up excitement it is great to hear real singing (and my! Trifitt's Sinatra can hold a note) and to recapture that where you can hear every word and they make witty sense and to recapture that big brass sound under Matthew Freeman's direction from the piano. There will be many in the audience for whom this is a nostalgia trip but director / choreographer Mitch Sebastian has made it a real show.
This festive version of the show is followed by a run in its more usual form without the Christmas decorations.
This "Christmas Rat Pack" plays at Wyndham's Theatre until 8th January 2012, "Rat Pack" plays from 9th – 21st January at Wyndham's, then tours to The Curve Theatre, Leicester 30th January – 4th February; the Orchard, Dartford 7th-11th February; Richmond theatre 13th-18th February; Waterside theatre, Aylesbury 29th-25th February and Churchill theatre, Bromley 27th February – 3rd March 2012.
Reviewer: Howard Loxton