Rats' Tales
Carol Ann Duffy, dramatised and directed by Melly Still
Royal Exchange Theatre, Manchester
–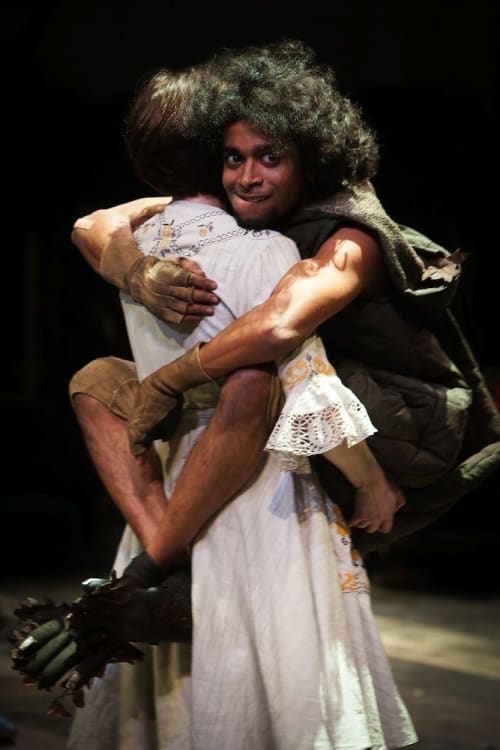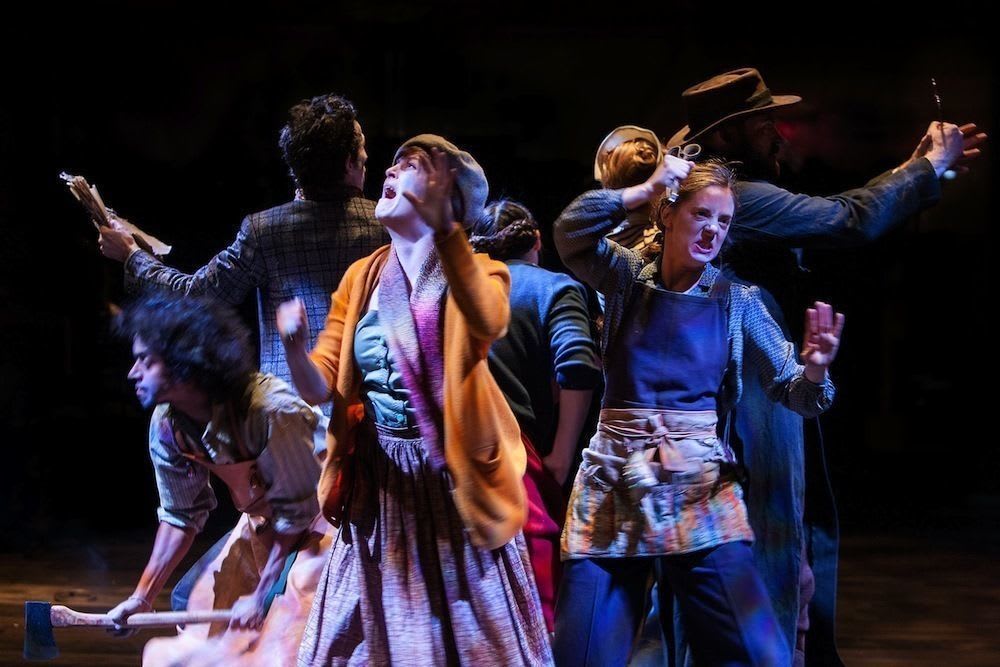 The Poet Laureate is all over the Royal Exchange this Christmas, with Melly Still's adaptation of Carol Ann Duffy's Rats' Tales in the main house and Little Angel Theatre's version of her The Tear Thief soon to open in the Studio, not to mention a few personal appearances of "Carol Ann Duffy and Friends".
I can't recall the Royal Exchange ever before doing a main house Christmas production aimed specifically at children or families, which seems to be the case here both from the subject matter and from the large number of daytime performances in the schedule. However this is a very dark show even for children with a general theme through most of the tales of separation or conflict between parents and their offspring.
The show opens with The Pied Piper of Hamlyn, which sticks closely to the version that we all know, but doesn't bring back the children at the end—yet. In A Stolen Childhood, a mother is jealous of her daughter's youth and is given a way to steal it by swapping shadows, but—like in the preceding tale—she comes a cropper when she refuses to pay the price for acquiring the secret.
A Little Girl is about a doll in a doll's house who grows to full size, breaks out of the house and becomes real, having a family of her own, but then misses her plastic home and family—I'll leave you to find your own metaphors in that one. The Changeling is a version of those tales about a human baby being stolen and replaced by a troll baby, with an interesting moral twist.
Invisible is about a boy whose father dies and his stepfather, when his mother remarries, ignores him until he turns invisible—but he is saved by the love of a girl. Wooden Maria is another version of the tale known as Sapsorrow in Jim Henson's The Storyteller (based in turn on the German folk tale Allerleirauh) in which a king is betrothed to his own daughter after she puts on a ring that the law says will only be worn by his next bride, but she asks for three special dresses before she agrees.
We end with some slapstick in The Squire's Bride, a tale of a clever young girl avoiding the clutches of an old man who wants to marry her by arranging for her place at the wedding to be taken by a horse, complete with wedding dress. But that isn't quite the end, as we return to the rats for The Lost Happy Endings, a short finale in which the rat responsible for delivering the happy endings for the stories is mugged in the forest and so all of the stories end badly—unless he can find a way to get them back.
Despite being based on what we now regard as children's stories (even if many were never written as such originally) this show comes across as children's stories for an adult audience. It isn't just the gruesome bits like the killing of the rats—kids love gruesome—or the references to the words of current politicians or even the occasional mild swear word, but the slow pace and the long, drawn-out nature of all of the stories sometimes feels like a bit of a test of endurance even for an experienced adult theatregoer.
Like most shows of this type, it is very heavy on ensemble narration, but Melly Still's adaptation, again as has become commonplace for this type of show, brings in a lot of physical theatre techniques. While there is nothing new about any of this, it works fine in principle, but often the show stops for a lengthy physical piece that either repeats something we've just been told or seems to be there only to give us a break from people talking at us, which kills the pace. Every story would, I'm sure, be much more effective if shorter and snappier.
I would agree with an audience member I overheard at the interval that Michael Mears is "the coolest Pied Piper I've ever seen", and he's superb in other roles as well. There are some wonderful characters also from Hiran Abeysekera, including a hilarious troll baby, and there are some great performances also from Katherine Manners and Emily Wachter. Also contributing well to the ensemble are Meline Danielewicz, Dan Milne, Jack Tarlton and Kelly Williams.
The large group of children is very well used and perfectly drilled as the rats and the children in the first tale and a couple of them get to play small parts in other stories, including a fairly substantial speaking role as the human child in The Changeling played very effectively by 12-year-old Matthew Chadderton (no relation) at the reviewed performance.
The onstage musicians Tom Thorp and Rosemary Toll add a great deal of atmosphere, although there are fewer songs than you might expect, and the video design from The Soup Collective works well and is nicely incorporated into Anna Fleischle's sparse design.
All-in-all a bit of a curate's egg, as there are some very good performances, ideas and stories but, despite ending with some very welcome knockabout comedy in the last story, I came out feeling that the whole thing had gone on too long, which is a shame when so many aspects of it are very well conceived.
Reviewer: David Chadderton