Rattle of a Simple Man
Charles Dyer
Tabs Productions and Rumpus Theatre Company
Pomegranate Theatre, Chesterfield
–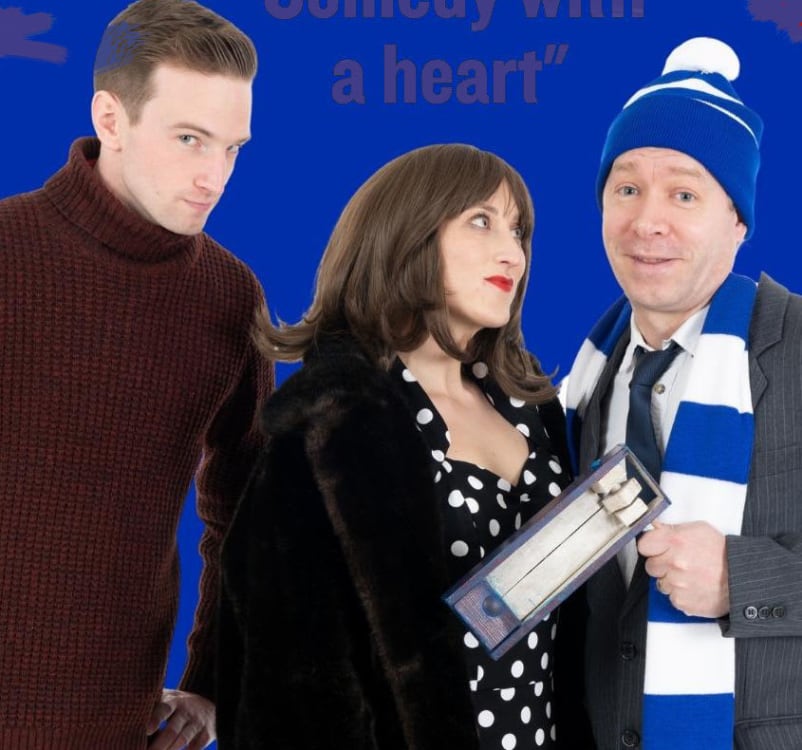 When Charles Dyer's 1962 comedy Rattle of a Simple Man was revived in the West End in 2004, critics panned the play because they said it was "creaky" and old-fashioned. One even said it was "dire".
So why should Tabs Productions and Rumpus Theatre Company take it on 18 years later? Because in the right hands it is still a deep, touching study of how two contrasting people find they have something in common: they share a lonely life and want to be loved although they have different ways of trying to find it.
And when you have two accomplished actors in Chloe Thorpe and David Martin in the lead roles, you have the recipe for a production which heats up nicely.
Rattle of a Simple Man features Percy, a 42-year-old football fan from Manchester who goes to a game with his mates in London. One of them bets Percy that he won't be able to score with a prostitute who picks him up at a club after the match.
The supposedly aristocratic Cyrenne takes him back to her flat where both eventually stop telling lies and unburden themselves of their insecurities as they strike up an unexpected relationship.
Rattle of a Simple Man is the third play in this spring season at the Pomegranate. In true rep style, David Martin has appeared in all three. He gives a stunning interpretation of Percy; in fact it is without doubt the best performance I have seen him give in several years of working with Tabs and Rumpus.
When he takes to the stage for the first time, he looks a somewhat pitiful character in a raincoat, football scarf, bobble hat and rosette and carrying a wooden rattle. For those who have never come across rattles, they were used by supporters to make a loud noise whenever their team was doing well. They were banned in the 1970s because hooligans used them as weapons.
Martin initially portrays Percy as bashful, clumsy, afraid of women and lacking in confidence. When Cyrenne reveals she knows he has never slept with a woman, the pained, almost shocked look on his face is a joy to see. His nerdy attempts at dancing the twist also endear him to theatregoers.
Martin develops empathy with the audience who want him to find a companion. When the mysterious Ricard arrives at the flat and Cyrenne throws her arms around him, Martin is deeply hurt and decides to leave. On the evening I saw the show, his parting words of "night night" were greeted with "aahs" from the stalls.
Chloe Thorpe gives a thrilling display as the self-assertive, outgoing Cyrenne whose life is just as flawed as Percy's. Her family want her to work in a restaurant they are planning to open but she does not want to work with her abusive father. Thorpe changes moods in an instant, excelling as her relationship with Percy evolves.
Christopher Brookes gives a fine cameo as sanctimonious Ricard who turns out to be Cyrenne's brother. Their delight at seeing each other soon disappears as they argue furiously about the way of life Cyrenne has chosen.
Rattle of a Simple Man is a period piece and as such there are certain parts of it which are extremely dated: it is almost inconceivable that even in the 1960s Percy would find the word "bottom" rude.
But with sensitive direction from Karen Henson, Tabs and Rumpus demonstrate that Dyer's play can still be a charming, tender and poignant demonstration that the antidote to loneliness can be found in unusual places.
Reviewer: Steve Orme