Rattle and Roll
Catrina McHugh
Open Clasp Theatre Company
Live Theatre, Newcastle, and touring
(2010)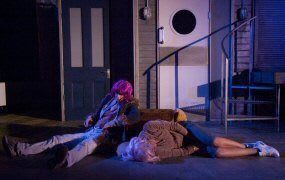 In her programme note writer Catrina McHugh describes the process of creating Rattle and Roll. The company worked with four groups of women, using drama techniques to create "a character with her own story to tell". They looked at why women enter sex work/prostitution, become homeless, are dependent on drugs and alcohol and/or lose their children to adoption. They found they had many things in common, such as domestic violence and childhood abuse.
These consultations informed the creation of the play, as did the respect that the company gained for the women with whom they worked, "their strength and courage, humour and talent". McHugh tells us that the play - indeed, the whole project - aims to make a difference.
The four characters do represent all of these problems: Marie (Cheryl Marie Dixon), a prostitute, has just been released from prison and is determined that she will stay clean, free from drugs, and reconnect with her child, currently being looked after by her ex's mother; Michelle (Ally Hunter) whose child was put up for adoption and for whom she obsessively makes a video diary, is again pregnant; Diane (Zoe Lambert), an aging prostitute, will "get clean" after she has sorted herself out, although that seems to mean getting more "gear"; and Emily (Eva Quinn) at just 18 is homeless and rejected by her family, except for her grandmother. All have been subject to abuse and violence.
Although I saw the production at Live, a "proper" theatre, and it will also play in two arts centres and another theatre, most of its dates are in community and other similar centres and most will be performed to women-only audiences and be followed by workshops.
And this is why I find myself in something of a quandry as a reviewer. Although I have nothing but praise for the cast who were totally convincing, I felt all the time that the issues were more important than the theatricality. Partially this is because the focus continually shifts between the characters and their problems and partially because there are, in fact, too many problems covered in a series of short scenes. I just started to become involved in one character's probems when we are suddenly whisked into a new scene in which we have to refocus on another character and another set of problems, although the previous character may be in the new scene.
As material for post-show workshops, particularly post-show workshops which may involve women with similar problems, the piece is a fantastic stimulus and resource but it does leave a theatre audience - as distinct from its target audience - rushing to catch up. But that could possibly be a male perspective - I am, after all, one of Nick Hytner's famous aging white males! - for it seemed to me that the women in the audience (who were in the majority) seemed to deal with it better.
So - mixed feelings. Writer McHugh, her creative team and cast are hugely talented, but, from a purely theatrical perspective, Rattle and Roll tries to cover too much ground. I'm glad I saw it, though: I learned a lot. Perhaps that's what it's all about.
Unrestricted performances at Lamplight Arts Centre, Stanley (25th Feb), Gateshead Old Town Hall (27th Feb), Washington Arts Centre (11th March) and Customs House, South Shields (25th & 26th March).
Reviewer: Peter Lathan