Ray, Bob And Friends

Customs House, South Shields
(2008)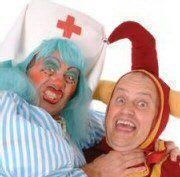 "It takes two to tango," so they say. In this case it takes two local legends to bring the house down. That's exactly what Ray Spencer and Bob Stott did, rocking an audience ranging from aged eight to eighty. Laugh? I Nearly died I cant think about Candy Floss the same way ever again!
Laurel and Hardy, Morecambe and Wise, The Two Ronnies: all legendary comedy double acts whom we hold in the highest regard. These are perfect examples of how a partnership works, which is something these two have perfected and made their trademark. Comedy partners Ray and Bob have been entertaining the people of South Tyneside for decades, most famously with their mother/son pantomime relationship, which has been wowing Customs House audiences for years. This show continues to prove why they are still much loved and respected!
Ray and Bob have crafted a great show with some musical guests to get the crowd singing and clapping along, with numbers from Geordie classics through to The Beatles and even some musical theatre. Although these guests provide a nice contrast, make no mistake: this is still all about Ray and Bob with their great routines and one-liners!
If you want great laughs, a sing-along, a legendary comedy duo, then you will be hard pushed to find a better show than this. Ray and Bob still have it and, trust me, you will want to see it!
Reviewer: Wayne Miller