Raymond Briggs' Father Christmas
Adaptation by Pins and Needles
West Yorkshire Playhouse, Lyric Hammersmith and Pins and Needles
West Yorkshire Playhouse Courtyard Theatre
–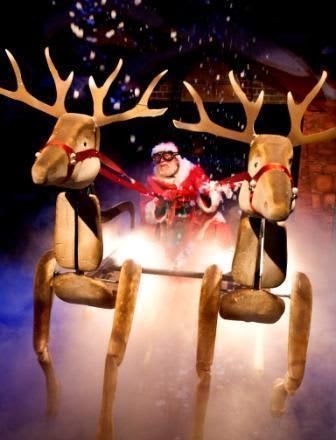 Raymond Briggs's work has simplicity and charm and this production goes a long way to reproducing both.
The story, as many will know, is a day, and significant night, in the life of the eponymous Santa. I had expected him to be a little more grumpy... but you can't have everything.
Seamus O'Neill is suitably distanced from the warm fantasy of Mr Claus, and director Emma Earle has decided to steer him clear of any interaction with his audience. Not that this stopped a few children from yelling requests, warnings and greetings in general. Which all added to the fun.
Also on stage is puppeteer Annie Brooks, skilfully manipulating a dog, a cat, a couple of reindeer and a mechanical hen. On a high platform stage left is Naomi Lee Schulke, listed as 'Musician' but she also plays and creates sound effects... and generally performs with comedic impact.
The effects are significant in as much as Santa mimes, say, pouring tea, whilst up above Naomi Lee Schulke creates the sound by pouring water into a bowl. Kids get it. Kids enjoy the discovery, reaching an understanding of what's going on, learning about theatre.
My tidgy companion asked, after 40 minutes: 'So,is he the real Santa or is he a man pretending?' I said he was a man, an actor. And Annie replied, 'Okay'. And got on with enjoying herself.
It's a good show and a very good way to introduce a child to theatre, rather than pantomime (which is also good, of course... oh no it isn't... oh yes it... etc etc). Get in early... and take a cushion—the specially installed, non-allocated bench seats are hard!
The show runs for fifty minutes.
Reviewer: Ray Brown