The Masque of the Red Death / The Fall of the House of Usher
Edgar Allan Poe, adapted by Simon James Collier and Adam Dechanel
Okai Collier
Jack Studio Theatre
–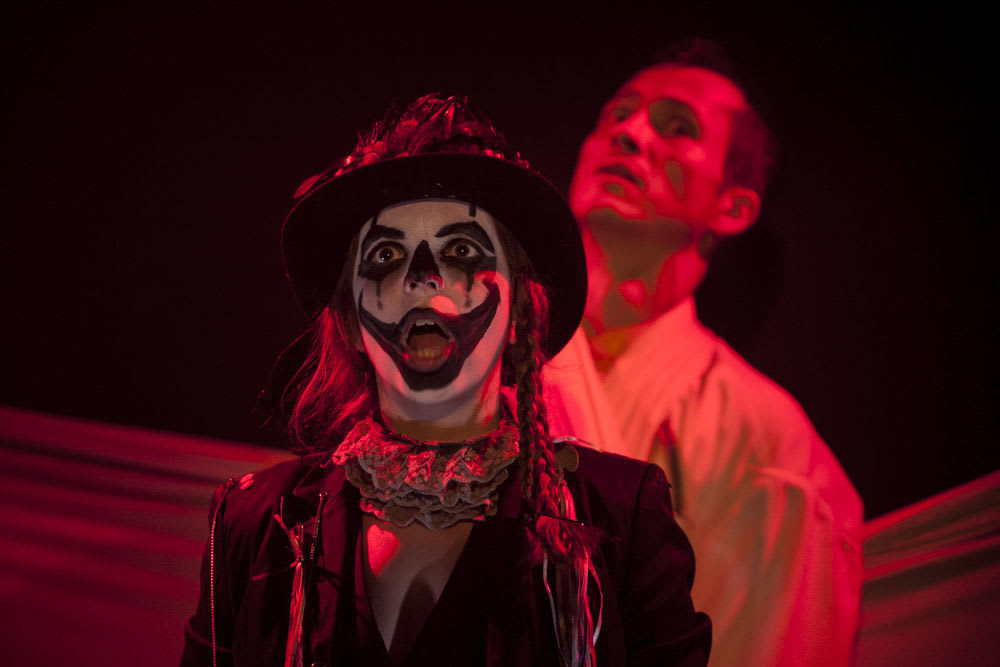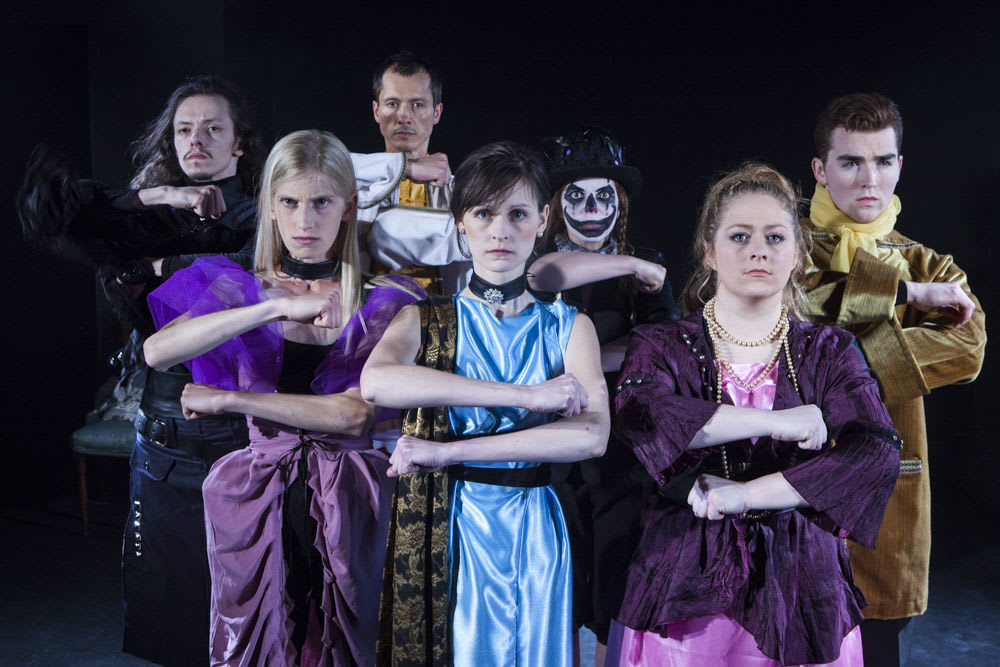 Edgar Allan Poe's stories of the supernatural have been the inspiration for numerous films, plays and ballets but they have never really managed to chill me—but then nor have the original stories. Rather than conjure up gothic expectations, I find their form archaic. I simply can't begin to believe them. Perhaps they need telling in the dark. How do these new versions face up to the challenge?
The Masque of the Red Death is a very short text—some 2,500 words of which about two-thirds is description of its setting—there is very little to the story: Prince Prospero assembles aristo friends, servant and entertainers for a six-month-long hedonistic party sealed off from the world where plague rages until the tale's only incident—the Red Death's arrival.
Simon James Collier has put some meat on these bare bones with a glimpse of the contempt that this Prospero feels for those outside his walls and giving him a twisted morality that suggests the guests have been chosen so that he can expose their failings. Collier also makes Cristinel Hogas's slightly sinister Transylvanian Prospero a follower of Satan.
Instead of Poe's thousand guests, this is a much more select band of cronies but the exploration of their relationships has hardly begun when the prince announces his masked ball and the tale comes to its climax.
Omar F Okai's production is swathed in mist, rich costume suggests opulence but it is left to the audience to imagine the full splendour of Prospero's abbey and his entertainment. Perhaps on the principle that you can imagine things more terrible than can be presented, only Prospero and his guests appear to see the Red Death's arrival but perhaps it has been there all the time.
The tale is introduced by a Jester (Anna Larkin) who becomes part of the laid-on entertainment and whose clown face seems half death mask. What is lacking, however, is the build-up to this apparition, an escalation of terror of the kind needed to present horror in this way.
Okai brings a formality to his movement that suits this hieratical set-up and I couldn't help feeling it could have been taken further. With so little real content to the story, this might have been more engaging with a great deal more dance.
The Fall of the House of Usher is adapted by Adam Dechanel and directed by Maud Madlyn. Poe's story has Roderick Usher writing to an old friend begging a visit were he finds Usher's sister apparently suffering from catalepsy, then dying. He helps place her in the family tomb but later there are strange cries and atmospheric changes: Roderick says his sister was entombed alive. Her spirit bursts into the room and falls on her brother and the visitor flees leaving a house that falls into the lake beside it.
Dechanel's version doesn't really follow Poe but Roger Corman's 1960 film in which the visitor is Philip Winthrop, engaged to Usher's sister Madeline, come in search of her. The Ushers have an evil history and Roderick and Madeline have vowed not to have children to continue their cursed line but Winthrop tries to convince her to leave.
Rather than seeing the entombment, bodies of other relatives are dragged in and preparations applied to them. Though the mad Madeline appears and dies with her brother, it is all rather confusing. Is there some hidden meaning in the Ushers only eating mashed potato? Has the director got it wrong: should it be played as a comedy, half of a grand guignol double bill?
Its simple staging should help sharpen understanding but it did not grip me, though Zachary Elliott-Hatton presents us with another enigmatic aristo and there's an intriguing performance from Bethan Maddocks, peeling spuds as family servant Bristol.
This double bill isn't one for me but Poe aficionados may love it.
Reviewer: Howard Loxton