Reading Gaol
Oscar Wilde, with new material by Catrin Keeler, Simon Marshall, James Lewis and Erin Read
Proforca Theatre Company
Theatre N16 @ Styx
–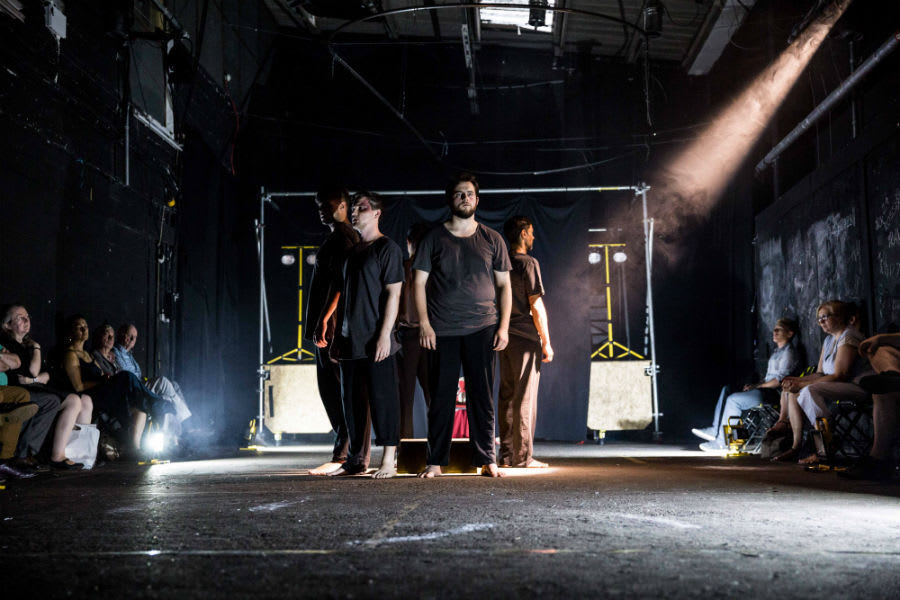 It's gloom and doom at Theatre N16 with Proforca's performance of Reading Gaol, a set of five monologues framed by Oscar Wilde's poem The Ballad of Reading Gaol.
The mood is established even as we enter the performance area.
A huge metal door is slid aside to allow us a few steps into the vast darkness where a line of figures wait. A voice tells us they have our names and five are called out. They step forward and are roughly taken as prisoners to the other end of the building.
For a moment, some of us worry we will get the same treatment. But the five are actors and we are allowed to take our seats.
A soundscape of otherworldly noises continues to tilt the show towards the horror genre, and is at times distracting when the poem is being recited.
The prisoners speak the opening sequence of verse as they walk in slow circles round what we could imagine is a closed prison yard, each of them in turn reciting six lines of verse.
Later sections of the poem are given clumsier context; in particular it is hard to understand what they thought was added by having a section be spoken while prisoners run back and forth the length of the room.
Between each section of verse, we hear stories loosely linked to the prison theme. Three of them could have been lifted from a nineteenth century popular weekly publication of sensational stories.
Monster (James Vincent) describes himself as the money man whose determination to be wealthy leads to a deranged killing spree.
The innocent (Miles Parker) imagines explaining to the woman he loves how he came to be sent down for a robbery he didn't commit.
The ex-soldier (Nic James) recounts his epic journey across "darkest Africa" surviving terrible battles only to commit an impulsive moment of violence on his return.
Two stories while feeling more contemporary are also more elusive. One is told by a prisoner (Nick Cope) insisting he can survive despite being assaulted.
The other is a strange intense speech from someone described as Guardian (Malcolm Jeffries) who may be a prisoner going mad, or the prison itself addressing individual members of the audience and even asking one to write her name on his skin.
He carries lots of names on his skin and talks of those whose lives during 170 years he has "cut short or taken".
However, Oscar Wilde's passionate and humane poetic attack on the death penalty and prisons built with "bricks of shame" is lost in the show's crude trip into the horror mode.
And that is a shame given its contemporary relevance even this week when the British Government abandoned its opposition to the death penalty in respect of two UK citizens.
Proforca's point of view seems to be limited to a taste for the horror genre, which again unjustly imprisons Oscar Wilde in a place he does not belong.
Reviewer: Keith Mckenna