Ready or Not
Naylah Ahmed
Kali Theatre
Arcola Theatre (Studio 2)
–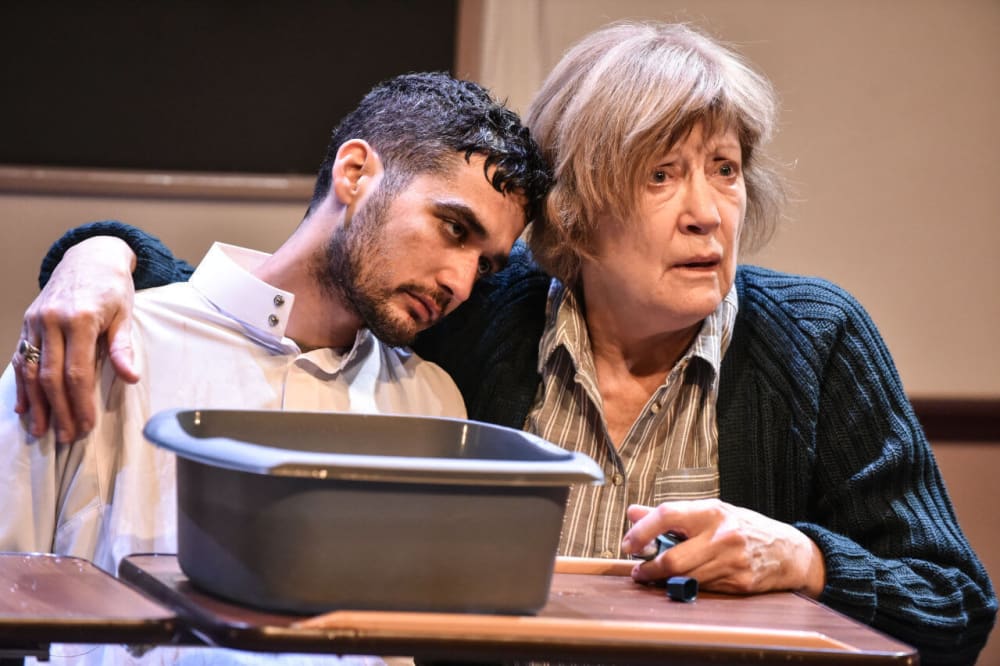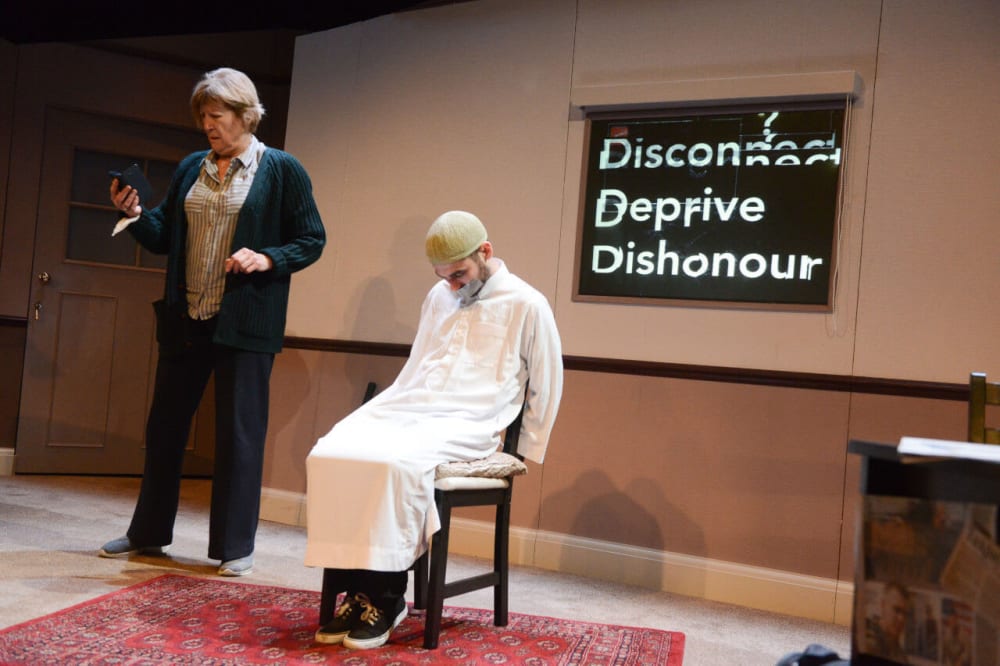 A young man in long white thobe and a white crochet cap sits on a chair. His hands are tied behind his back, his feet bound and a strip of gaffer tape covers his mouth. Nearby sits a middle-aged woman by the fire and in front of the television. She is reading letters she takes from a shoebox. It seems clear that he is her prisoner: but what is the situation between them?
The action starts with her switching on the TV. There's a bulletin about war in the Middle East. The audience sees fuzzy images on a video screen. Are these the same ones as the newscast or for some reason distorted? On the same screen will be shown the messages the woman finds on an iPad and a mobile 'phone that she picks up: messages that ask where UZIBOY919 is and what he is doing.
The woman turns out to be a retired teacher with a son in the army (the letters are from him and, as a montage of writing covers the back wall, Ryan Early voices them). The young man has knocked on her door seeking signatures on a petition against the use of drones that have been causing civilian casualties. She's invited him in but did she knock him out with a cricket bat as he thinks or did he just trip when he dashed up her stairs as she claims?
Is he really a terrorist? Why else would she be holding him? But she's not informing anyone and not picking up the calls on her telephone. He claims not to have any idea what is going on. She discovers car keys in his backpack and an asthma inhaler. As scenes progress through the day she brings in bunches of flowers. She brings him soup that he refuses, brings him a bucket to pee in but several times loses patience and nearly kills him.
It's a picture of paranoia and cultural ignorance. The woman says she has researched Islam but her ideas come from mass media distortions. She can't differentiate between so-called Islamic State fanatic and British-born believer.
An over-long first act goes on making this point long after the audience has got it but also introduces other information that begins to come together in the second act when the woman eventually lets in the doggedly persistent girlfriend of her soldier son and the play begins to become much more interesting.
There is a mixture here of conflicts in family loyalties with questioning of actions and responsibilities in wartime, of guilt and confession and thoughts about religious observance and theological control. The points it makes may seem obvious but Ready or Not eventually turns into real drama and is a powerful reminder of the ignorance and misinformation on which so many people now base their judgements.
In some ways, Helena Bell's production is too naturalistic, for it makes you question the practicalities of this imprisonment, though any illogicality matches Joan Blackham's performance of Pat, as the woman is called, which shows her full of fears and confusion.
Adam Karim as the young man, Yusuf, seems honest and open but with just an undercurrent of something suspicious that could add a plot level or just be there to expose the audience's own prejudices. Natasha Rickman as Holly, the soldier's girlfriend, brings a breath of fresh air in her practicality, as she reveals family back-story and then has to cope with shocking new revelations.
A play that seemed to be going round in circles finds dramatic direction.
Reviewer: Howard Loxton