Real Life Becomes a Rumour
Tom George
White Box Theatre
theSpace @ Surgeons Hall
–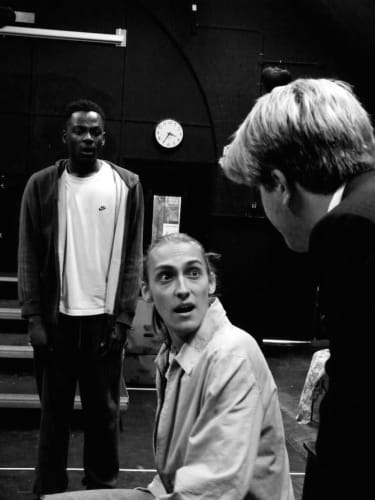 White Box Theatre's Real Life Becomes a Rumour is a strange dark play, part thriller and part black comedy.
Three young friends meet up for a reunion. They have all worked together as salesmen but Lee (Joe Taylor) has run away to this one bedroom flat at the seaside. There is tension in the room as the posh Harris (Tom George) and Johnson (Ibrahim David Thompson) try to discover why Lee has left in such a hurry.
They start by drinking and playing games such as liar dice and fizz buzz. They swop stories including the most reckless thing they have done. But one of their friends, Eric, is not there.
A visit from the next-door neighbour Kaspar Hanak (James Wilson), a solicitor, to borrow a cigarette increases the tension further.
The boys decide to play a game of charades and the whole situation turns much darker and sinister when Johnson starts to mime the excavation of a box that reveals a grim secret.
The actors work hard at creating their characters but in the end this is a play that should have remained as a 20-minute short film.
Reviewer: Robin Strapp