The Real Thing
Tom Stoppard
Library Theatre, Manchester
(2005)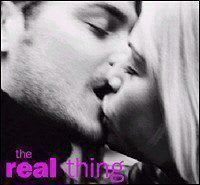 The Library's artistic director Chris Honer has revived Tom Stoppard's 1982 play about love (the 'real thing' of the title) and writing. Most of the play is centred around top playwright Henry and his relationships with his wife Charlotte and the wife of one of his actors, Annie. Henry has written a play in which a character responds to discovering his wife's apparent infidelity with an impressive sequence of very witty put-downs. When similar situations arise in real life, the responses of the characters are not always as impressive.
Stoppard's dialogue, as always, is knowingly clever and often very witty; the funny parts are very funny, but the serious parts drag after a while. The meditations on writing, relationships and fidelity are interesting at first, but by the end it is difficult to retain any sympathy for these people as they talk endlessly in a politely middle-class way about their relationship problems rather than actually doing something about them.
Peter Lindford gets across the sharp wit, arrogance, snobbishness and thoughtfulness of Henry well, supported ably by Caroline Harding as his wife, Charlotte. Lucy Tregear is excellent as Annie, Christopher Wright is very good as her husband Max, and Justin Brett plays the part of Billy, the younger actor who tries to seduce Annie, very well. Judith Croft's design is simple and reasonably effective, but some of the scene changes seem to take too long, especially after some of the very short scenes.
This is not a bad production of Stoppard's play, which is often very funny and at times thought-provoking, but the thin storyline and characters that become tiresome make it difficult for the play to retain the audience's interest, especially in the particularly long second half.
"The Real Thing" runs until 12 March 2005
Reviewer: David Chadderton