My Real War 1914 - ?
Adapted by Tricia Thorns from War Letters by Havilland Le Mesurier
Trafalgar Studio 2
(2009)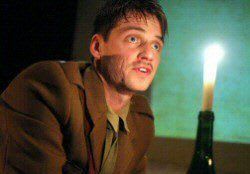 A dozen years ago the London-based American theatre critic Blanche Marvin was handed a precious cache of family letters by the great-niece of Havilland Le Mesurier for safekeeping.
The letters had been written home by Lem - as he preferred to call himself - a British subaltern with a vivid epistolary style, who became a tragic but heroic victim of the Great War in 1916, aged 22.
The letters, mostly written to his parents from the Western Front, were privately published, eventually reaching members of Two's Company, a theatre group which over the last half decade has created a series of live performances to give stage space to what they call "Forgotten Voices from the Great War".
Two's Company director Tricia Thorns' adaptation successfully toured the regions in 2007 with a simpler, three-word title, and was aired briefly at the Tristan Bates Theatre in London.
But this month-long West End run in the Trafalgar Studio 2 gives a wider audience the chance look at First World War realities through the eyes of a young officer faced with the harrowing, ever-present dangers, indignities and the sheer utter boredom of trench warfare, with occasional moments of convivial relief among fellow officers .
Philip Desmeules, with his jaunty and engaging stage presence, repeats the role against a projected backdrop of contemporary photographs, recruiting posters and documentary film clips, starting as a Bertie Woosterish undergraduate, hoping the college will keep his history scholarship warm for him while he signs up for an army commission.
Training in Petworth Park is hard work but fun, the recruits longing to get to grips with the cheeky, belligerent "Fritz". First impressions of France are also sunny and idyllic: food, wine and agreeable girls making time pass quickly as they prepare to join the King's Royal Rifle brigades on the front-line.
But the vile squalor and idiotic pointlessness of the real thing soon kicks in as his letters, especially those to his father, take on a darker tone, although even a ricochet bullet wound to his throat, a "Blighty one" which had him sent home, is treated as a bit of lark; albeit that he recovered in time to take part in the bloody Battle of the Somme.
This is a poignant 90 minute performance, staged and performed with sensitivity, insight and directness. The simple staging could hardly be bettered, but director Thorns has perceived a need to keep our interest up with a constant resort to suiting action to the word.
This has the effect of punctuating every missive, however brief, with the young actor rushing or crawling about the stage, grabbing props from a large trunk and, from time to time, taking a bruising nose-dive to the hard floor.
In the middle section there is also a tendency for Desmeules to get into a rhythmic delivery that induced eye-drooping sleepiness in some members of his audience. Indeed, since these letters are essentially one-to-one messages, it could be that Ms Thorns' text would work better on the radio.
If this has not already happened dear Radio Four, please take note - and while I mention it, it would be hard to imagine a better voice to speak Lem's words with such perfect stiff upper-lip, upper-class precision.
Reviewer: John Thaxter