Reasons to be Cheerful
Book by Paul Sirett, songs by Ian Dury and the Blockheads
Graeae
Latitude Festival
–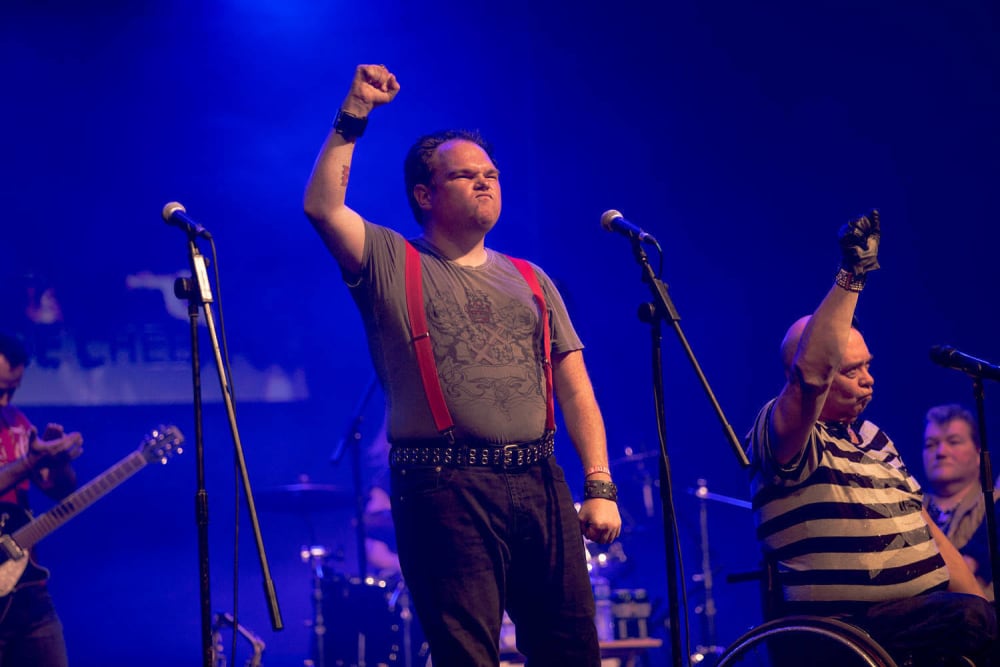 Graeae's celebration of the work of Ian Dury is another perfect fit for a music festival that is introducing a theatre element, as it is basically a music concert with a few bits of talk in-between.
Vinnie with his mates and family is celebrating the songs of Ian Dury and the Blockheads to commemorate the death of his father two years ago in 1979. The opening scene places the show into the context of Thatcher's Britain, which is important to understand where Dury's lyrics were coming from and also draws some chilling parallels—not accidentally I'm sure—with modern Britain.
There are messages in the show but largely the politics comes through the music, which is sung by no fewer than nine vocalists—Dury mostly represented by two, one for the low numbers and another for the higher, shouty ones—with a four-piece band on stage throughout.
The singing as well as the energy and the sense of joy coming from the performers is fantastic and infectious, unfortunately spoiled at the performance I saw by terrible vocal sound which was so distorted that the words were unclear and the sound painful. The slides with the lyrics on looked great too, but were behind the band so difficult to see.
Technical issues aside, there is much to enjoy in this show. Vinnie looks far too young to have been born in the '70s (or '80s) but has the post-punk teenage attitude and gestures down perfectly in a superb performance. The first punk signer (for the hearing impaired) I've ever seen was also as charismatic and involved in the action as anyone else on stage.
While certainly not for young ears or those easily offended—as some parents who hadn't done their homework discovered halfway through as they ushered their young innocents out of the tent—it's a joyful celebration of some great and hard-hitting songs that's a lot of fun.
Reviewer: David Chadderton