Reasons To Be Cheerful
Script by Paul Sirett, music by Ian Dury and the Blockheads
Graeae Theatre Company in association with Belgrade Theatre Coventry
Theatre Royal, Stratford East
–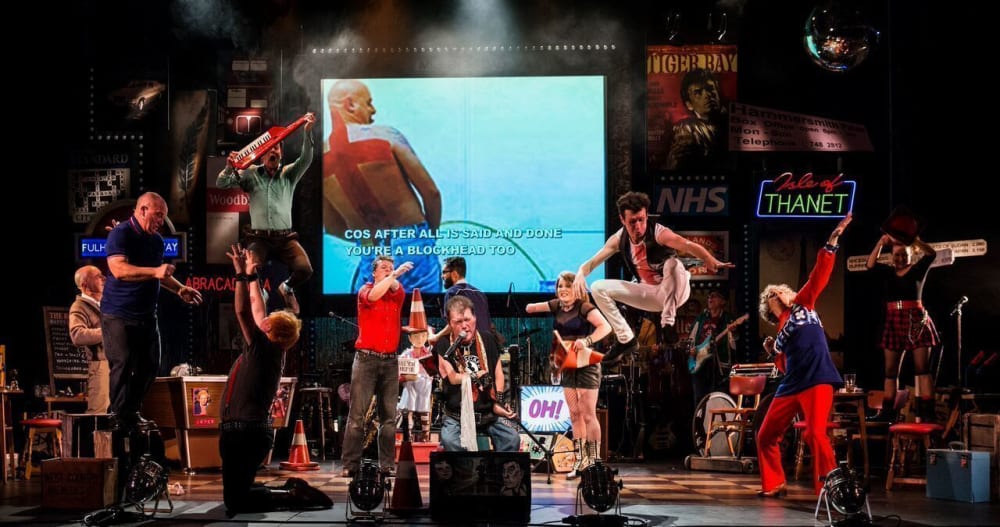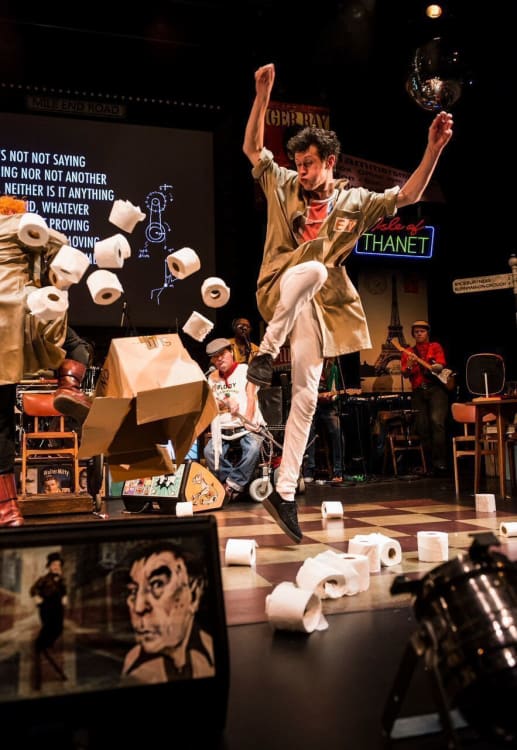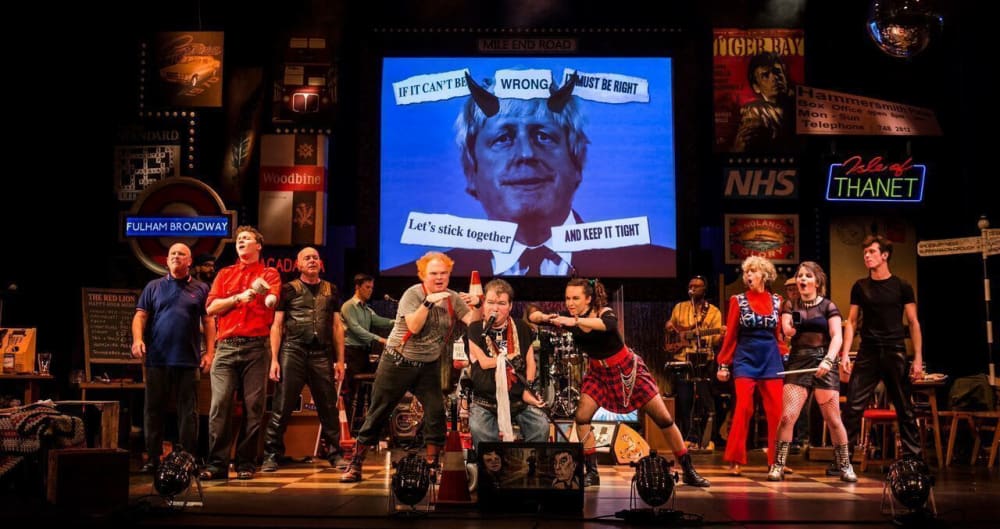 It is seven years ago almost to the day that I welcomed the arrival of this Graeae production at the Theatre Royal. It has been revived a number of times in the intervening years, featured in the 2012 Paralympic Games Opening Ceremony and now it is back, on the last leg of what is described as a final tour.
Raucous as ever, it is a great night for anyone who isn't a far right Tory (and even they could be won over by the rhythm and clever rhyming of Dury and the Blockheads and the company's vitality).
Many of the original cast are back, not looking noticeably older and still bursting with energy. In essence, it is the same Jenny Sealey production, its organised chaos even more fine-tuned with updated video by Mark Haig, perhaps more set from Liz Ascroft and even a new song for 2017 written by Blockheads Derek Hussey and Chaz Jankel plus John Kelly joining the Dury hits that form the show's core.
That parade of Dury numbers was the starting point when it was originally commissioned by Graeae's Jenny Sealey and Kerry Michael at Stratford East to celebrate Dury and the Blockheads' music but this is no ordinary jukebox musical. It doesn't offer a musical biography but tells a tale of young fans wanting to attend a Blockheads concert that is already sold out.
They're Vinnie and his mate, self-styled anarchist Colin, and Janine, whom Vinnie fancies. Vinnie's dad Bobby, who's succumbing to cancer, is an even bigger fan. They don't have tickets but Dave, the boys' boss and Janine's current bloke, does. What happens?
That story is framed as a pub gig put on to remember Bobby (played by his brother Bill) and the date on the stage screen rolls back from 2017 to the 1980s then to 1979 when Bobby was still alive. Labour has lost to the Tories but "Reasons to be Cheerful (Part 3)" is climbing the charts and the play within the play begins.
Played in the pub space, with just a pool table, a couple of chairs and a wheelchair, it moves from Vinnie's home to the supermarket he works at, his mum's car and the beach at Southend. It doesn't need scenery and it all happens in front of the (excellent) band, delivering performances full of feeling and energy from Stephen Lloyd (Vinnie), Stephen Collins (Colin), Beth Hinton-Lever (Janine) and Karen Spencer (Vinnie's mum Pat) all back in the roles they created and newcomers Gerard McDermott and Max Runham as Bobby and Dave.
This isn't just a talented company but one that embraces a wide range of performers. Lead singer John Kelly (another from the original company) is in his wheelchair, Stephen Collins is deaf, both Beth and Max have incomplete limbs. The important thing is that you don't really notice these things unless drawn to your attention, though you can't miss that Stephen Lloyd is unexpectedly on crutches (and apologising for having to miss some of his choreography).
On press night, one energetic piece of Kung Fu saw an artificial limb fly out into the audience. It was calmly handed back to the actor, a mark of how well different abilities are integrated and of how the company's work over the past three decades has created new audience attitudes. I hardly need to add a reminder that the production also automatically incorporates British Sign Language, surtitles and audio description making the whole performance accessible to everyone.
Ian Dury was a campaigner, a supporter and patron of Graeae. This is a fitting celebration of his work—but also a celebration of Graeae's achievement.
It's seven years since this musical was mounted, 17 since Ian Dury died and 37 since he and Chas Jankel wrote "Reasons To Be Cheerful (Part 3)" but neither music nor lyrics seem to have dated. Back in those days, I wasn't a punk fan but Dury was different: there was an immediate connection.
There still is and it saw young and old in the audience all on their feet, stomping and waving along with the company, to bring the show to a close—I reckon that is going to happen every night.
Reviewer: Howard Loxton