Reasons to Stay Alive
Book by Matt Haig, adapted by April De Angelis
English Touring Theatre and Sheffield Theatres
Bristol Old Vic
–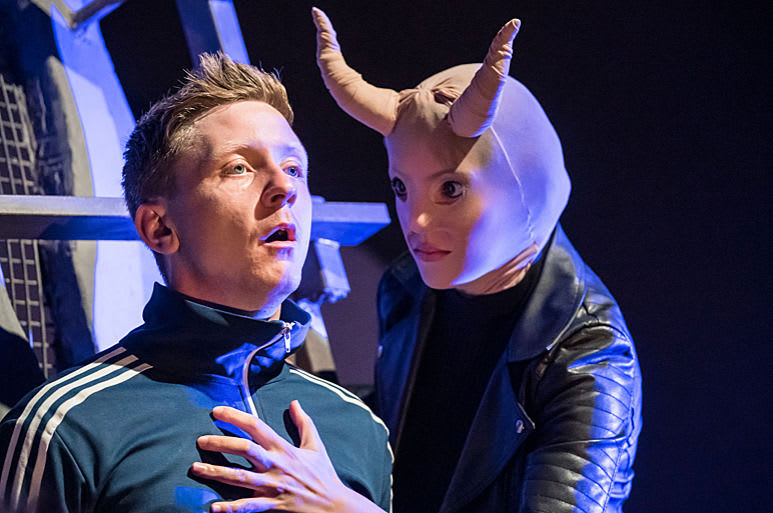 Rumi's words "the wound is the place where the Light enters you" are quoted in this insightful adaptation by April De Angelis of Matt Haig's bestselling memoir Reasons to Stay Alive. The phrase encapsulates the spirit of a play—jointly produced by English Touring Theatre and Sheffield Theatres—that charts the depths of pain caused by anxiety and depression but ultimately finds joy and inspiration in the world.
Aged 24, Matt's young life collapses while he's working in Ibiza. Suicidal feelings drive him to the edge of a clifftop, where he's ready to jump into the void. While thoughts of loved ones—his girlfriend Andrea and his parents—pull him back from the brink, the agony inside his head continues. Medication doesn't help and, back home in England, even a trip to the shops to fetch milk becomes a journey of despair.
Director Jonathan Watkins has woven stylised physicality through the more naturalistic scenes of Matt's unravelling, choreographed around Simon Daw's design of a fragile, fractured skull-like shell. Composed of three sections, the set serves as a scaffold for the cast to clamber over and rotate, a visual representation of Matt's mind spinning out of control.
The imagery is striking, though perhaps more suited to the intimacy of a studio theatre than the scale of Bristol Old Vic's main stage. Similarly, De Angelis's neat narrative device, framing the play within a conversation between Matt's older and younger selves, sometimes slackens the tension by providing the younger, disoriented Matt with a steadying voice of reassurance too early on. The most powerful moments are when we find him grappling to make sense of his frenzied, hostile world, clinging only to his stalwart Andrea for support.
There's a pleasing chemistry between Mike Noble's rawly vulnerable younger Matt and Janet Etuk's patient but not saintly Andrea, occasionally exasperated but always steadfast. When Andrea herself needs help in one scene, it's imaginatively provided as she leans on a succession of supportive bodies. Meanwhile, Connie Walker and Chris Donnelly as Matt's baffled parents provide moments of lightness as they try to find comfort in the storm—Matt's favourite fish pie for supper, a trip to the theatre to watch Matthew Bourne's Swan Lake.
Though on this occasion, Matt is beset by demons—ingeniously represented by Dilek Rose's fiend licking his cheek—he does begin to experience moments of calm. With the love of those around him, he discovers that running soothes his mind, while art and literature—from Emily Dickinson to Stephen King—gradually help him to scrabble out of the vortex.
Matt's self-help lists from the book are theatrically flagged with props and chants: things that generate more sympathy than depression, famous people who have suffered mental illness and, all importantly, those reasons to stay alive.
Medical intervention may be given little credit for Matt's personal rehabilitation, but there's an emphasis on every recovery being unique and ongoing. As younger Matt grows stronger, Phil Cheadle's previously equable older Matt—despite the weapons he has learnt to arm himself with—experiences his own moments of relapse and there's a poignant coming together of the two versions of himself.
Mental illness is treated with great sensitivity throughout Reasons to Stay Alive; this informative and illuminating piece of theatre remains true to the book not only in exposing the havoc wreaked by depression, but also by offering the prospect that it can be overcome.
Reviewer: Claire Hayes