reasons to be pretty
Neil LaBute
MCC Theater Company
Lucille Lortel Theatre, New York
(2008)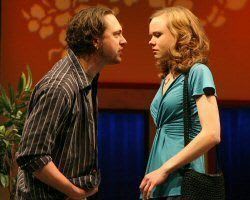 Our former Edinburgh reviewer, Rachel Lynn Brody, has moved back to the United States and is now giving us the occasional taste of US theatre.
While I wasn't able to see The Shape of Things or Fat Pig on stage, I do remember being utterly breathtaken by the denoument in LaBute's film version of the former. When Rachel Weisz's character revealed the depths of her head-fuck-with-ery, it was like a punch to the gut - and caused a solid re-evaluation of how people relate to the appearance of others.
Although it is the cap on LaBute's trilogy, reasons to be pretty never really attains the same level of emotive or philisophical power. "Don't judge books by their covers, or people by their faces, you shallow schmucks" seems to be the message here. And it's not that it's a bad message, it's just not really the kind of thing I want to sit through two hours of mediocre drama to get to.
LaBute's setup, in which a woman finds out about the unthinking comment her boyfriend made on her apperance, should provide fertile ground for the deconstruction of relationships according to who feels how about whose appearance, but in the end all I really wanted to do was give the protagonist (Greg, played by Thomas Sadoski) a good shake. We're glad you're a better person now, pal, but maybe you shouldn't have been such a douche in the first place.
Steph (Alison Pill), as the wronged ex-girlfriend, is one of the more engaging performers, but maaybe that's because LaBute has given her a real struggle and a story which moves from one step to the next.
The women in reasons to be pretty are strong, individual characters, while the men seem dependent on sex and babying. Although Greg is talked up as the smart one of the four, one refreshing aspect of LaBute's writing is how clear it is that these characters are not the crème de la crème of the intellectual world. Still, they muddle through.
The first act moves at a steady clip, but in act two the play becomes over-long, and should have finished a full two or three scenes before its eventual conclusion. Each character has one monologue direct to the audience, and Steph's feels like a real sharing between audience and performer, but subsequent monologues contribute little and simply stop the action dead in its tracks.
David Gallo's scenic design is playful and imaginitive as he conjures the warehouse environment where the characters work and live. The hipper-than-hip indiepop guitar chords which play from one scene to the next feel strangely out of place in this picture of down-and-out suburban living.
Philip Fisher reviewed both "The Shape of Things" and "Fat Pig" in London.
Reviewer: Rachel Lynn Brody