Rebecca - a study in jealousy
Daphne du Maurier - adapted and directed by Emma Rice
Kneehigh Theatre
Yvonne Arnaud, Guildford
–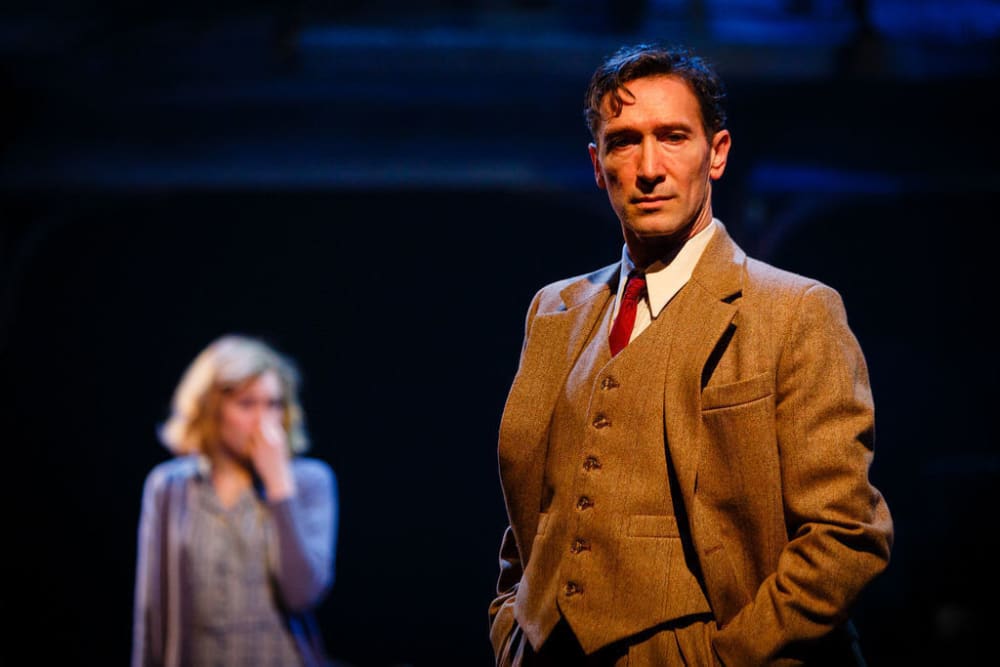 Footman, Robert, as played by Katy Owen, has become a major character in Emma Rice's exciting production of Rebecca, an interpretation which has been approved by Du Maurier's son who believes that "After so many years a new approach is called for and you have to turn Rebecca on its head slightly".
Kneehigh has certainly done that with a very contemporary and surrealist production which holds the audience in the palm of its hand as the well known story evolves with multiple surprises. The set itself is a model of ingenuity and a test for the athleticism of the performers, as well as becoming the interior of Manderley, a ballroom, a cottage or the seashore, changing with a few well organised tweaks.
This is a much lighter version of the story than you are ever likely to witness again, containing as much comedy as tragedy and all interspersed with some very unexpected dance sequences. The servants dancing a very spirited Charleston at the beginning of the second act had me crying with laughter, and they danced so well too.
Ever present are a sort of 'Greek Chorus' of fishermen who keep the narrative alive with their songs, and also constant are a group of actor-musicians, slightly offstage, who perform on violin, cello, accordion etc.
The opening sequence sets the scene for the often bizarre antics to follow as a boat descends from on high taking a body beneath it as it slowly sinks to settle on the floor of the stage. Rebecca had drowned and she is now under the sea and, presumably, under the boat, but, just as we are about to settle into a foreboding of the mystery thriller, or perhaps the ghost story, or maybe the love story which we expect to follow, a trap door flies open and Beatrice arrives with all her flamboyant nature at full throttle.
Lizzie Winkler's exotic and sophisticated Beatrice is the sister of Maxim de Winter (played with laid-back nonchalance by Tristan Sturrock) and she is excited to be about to meet his new wife, but very disappointed when she does. The new Mrs de Winter, is shy, nervous, simply dressed and just anxious to do everything correctly as the new mistress of Manderley, and Imogen Sage takes her from here to a colder, more calculating and stronger personality, a process which seems to begin with 'That Dress'. You have to see it, and her in it.
Back to Katy Owen as Robert (she also plays Ben, the retarded boy who lives on the seashore). What a joy she is to watch, a cross between Emcee from Cabaret and a little impish leprechaun as she dashes and leaps around the multi-level set (designer Leslie Travers) always anxious to talk on the telephone and very funny when she does so.
Emily Raymond as Mrs Danvers is not so frighteningly menacing as is usual, but disturbingly as resentful of the new wife as she is besotted with the previous one.
Oh and there is a dog too, a puppet, but so expressive in manner and movement that the audience took it to its heart and 'Oooed' and 'Ahhed' accordingly amid the laughter.
A delightfully quirky and unconventional production. Loved it.
Reviewer: Sheila Connor