Rebecca
Daphne du Maurier, adapted by Emma Rice
Kneehigh Theatre
The Lowry, Salford
–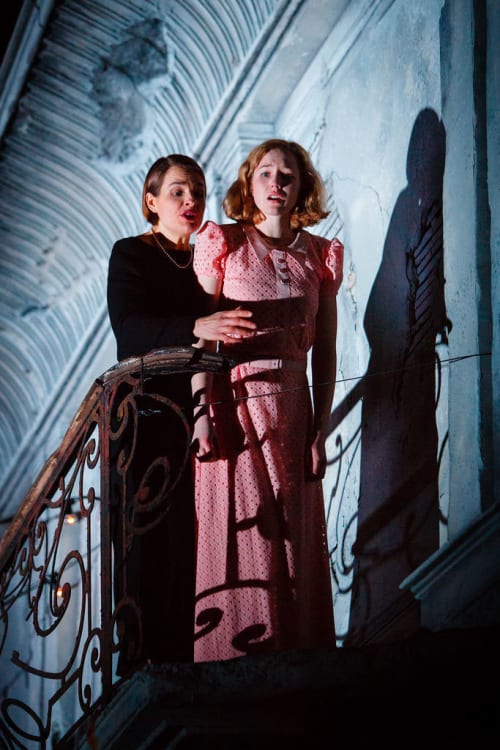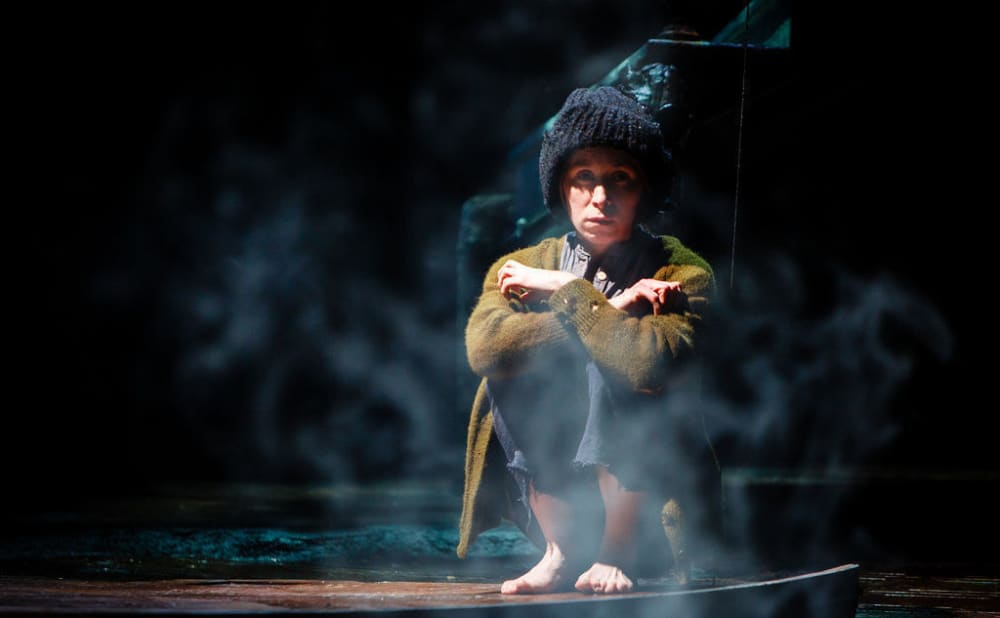 "Last night I dreamt I went to Manderley again", the second Mrs de Winter tells us to open this adaptation of du Maurier's novel, just as she did the book.
We are then treated to some typical Kneehigh layered imagery as a boat and a body slowly float down from the ceiling as the fishermen treat us to some harmony singing accompanied by an onstage band while they build up the set for the opening scene as the newlyweds arrive home to Manderley.
This is visually impressive but is also packed with coded information about the background to the story, as the first Mrs de Winter died a year earlier, presumed drowned, leaving behind her bitter and loyal housekeeper Mrs Danvers, who is not at all impressed by her new mistress.
However there is rather more to the story and to the relationship between the original de Winters than there first appears, which is gradually revealed.
Rebecca is best-known from the 1940 Hitchcock film, but Kneehigh's version has a lot more comedy, which may not be to the taste of fans of the original but actually works quite well. Maxim's sister Beatrice (Lizzie Winkler) and her husband Giles (Andy Williams) are a comic duo, and young boy servant Robert is played brilliantly by Katy Owen with some authentic but hilarious touches.
The comedy often dominates, but it still doesn't take away from the serious plot between Mrs de Winter (Imogen Sage), lost in her role as mistress of the big house, her new husband (Kneehigh regular Tristan Sturrock), whom she believes is still in love with his first wife, and the sinister Mrs Danvers (Emily Raymond).
Perhaps the plot does get a little bogged down towards the end, but it works much better on stage than most literary adaptations, including a previous one I have seen of the same novel. The detailed, adaptable design by Leslie Travers, the mix of folk-style songs with music more contemporary to the setting of the story and the clever little visual and physical touches that make this a Kneehigh production all work well.
If you're expecting something dark, sinister and humourless throughout, you may be disappointed, but as a rich brew of theatrical entertainment that tells the story quite effectively with a few laughs along the way, it works well and is a lot of fun.
Reviewer: David Chadderton