Rebus: Long Shadows
Ian Rankin, adapted by Rona Munro
Birmingham Repertory Theatre in association with Daniel Schumann, Lee Dean and Cambridge Arts Theatre
Birmingham REP
–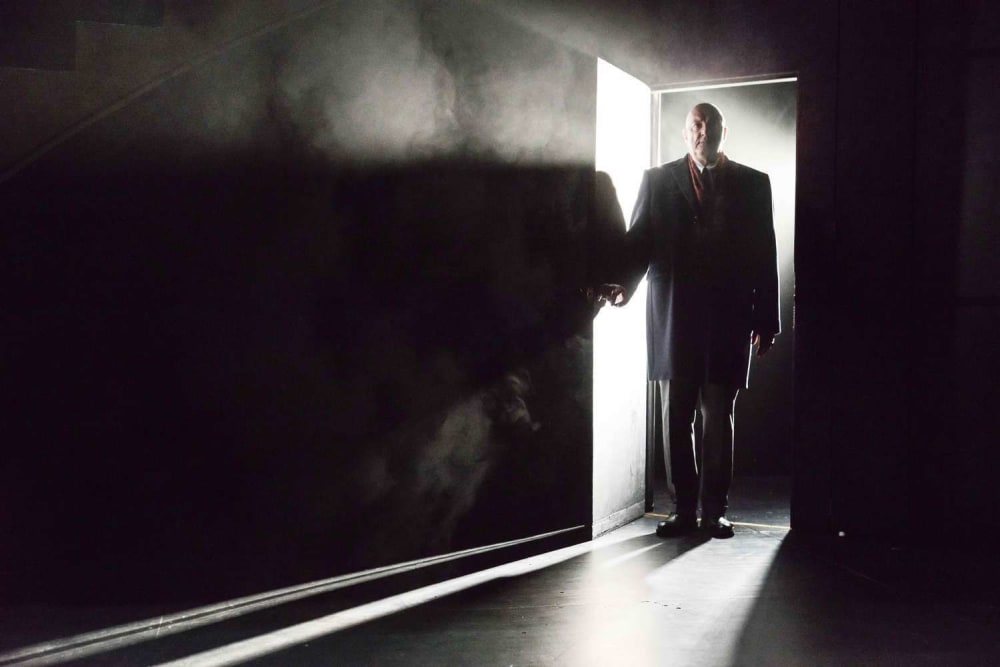 Scottish wordsmith Ian Rankin, who is primarily known as a novelist, has for the second time in his career written for the stage.
Five years ago, Dark Road, which he wrote with Mark Thomson, was presented at the Royal Lyceum Theatre, Edinburgh. Now Rankin has teamed up with Rona Munro to give his renowned character John Rebus, the focal point of more than 20 books, his first stage outing.
Unlike some authors who turn one of their novels into a play, Rankin has written a completely new tale. Rebus: Long Shadows features a case from the detective's murky past which comes back to haunt him.
The play is so well written—the plot is clever although to some extent complicated—and the staging so impressive that other playwrights may struggle to come up with a thriller as good as this.
Without a shadow of a doubt, the success of the production is Charles Lawson as Rebus. Many people will know him as Jim McDonald from Coronation Street. Here he is totally different. No one would believe he is not Scottish as he inhabits the character completely. I didn't think for a single moment about either John Hannah or Ken Stott who played Rebus on television; Lawson is totally believable as the curmudgeonly crime-solver who used to have no qualms about bending the rules in the quest for justice.
The part is a mammoth one for Lawson who is on stage throughout. In a British Theatre Guide podcast episode, he admitted this was the biggest challenge he's faced in 38 years as an actor. He rises to it commendably.
Rebus: Long Shadows features the detective in retirement trying to be sober as the changing technological world threatens to get the better of him.
But when the daughter of a murder victim turns up outside his flat, he goes back on the booze as he tries to solve the cold case.
At the same time, the police are trying to convict a dangerous killer. Advances in DNA profiling mean they may now have the evidence to put their suspect away. But Rebus's involvement with gangland boss "Big Ger" Cafferty may scupper their investigation.
John Stahl's first appearance as Cafferty is suitably menacing. He brings out the depth of the character, a wily adversary who appears to have a hold on Rebus. A scene in the second half when Rebus and Cafferty are battling for supremacy is electric: Lawson shines as the flawed, down-to-earth, troubled protagonist; so too does Stahl as the successful, cocky, lawless, seemingly untouchable villain.
Anyone who knows the Rebus stories recognises the importance of Detective Inspector Siobhan Clarke, the steadying influence who keeps Rebus on the right side of the law. Here Cathy Tyson plays Clarke with steel yet compassion as her loyalty to Rebus conflicts with her desire to keep within the law.
The first half may seem slow at times as the two historic cases unfold, but director Robin Lefevre brings out the humour in Rankin's script and ensures his cast stay one step ahead of the audience throughout. I should imagine only a very small number of people will guess how the play ends.
Designer Ti Green produces a basic set which easily switches from Rebus's spartan flat to a nightclub and then to Cafferty's plush apartment. Chahine Yavroyan and Simon Bond's lighting is simple yet effective while composer and sound designer Garth McConaghie produces appropriate music which adds to the suspenseful atmosphere.
The thriller is becoming a genre that is increasing in popularity. Writers though will have to be on top of their game to match Rankin and Munro's triumph with Rebus: Long Shadows.
Reviewer: Steve Orme