Rebus: Long Shadows
Ian Rankin, adapted by Rona Munro
Daniel Shumann, Lee Dean and Cambridge Arts Theatre in association with Birmingham Repertory Theatre
Opera House, Manchester
–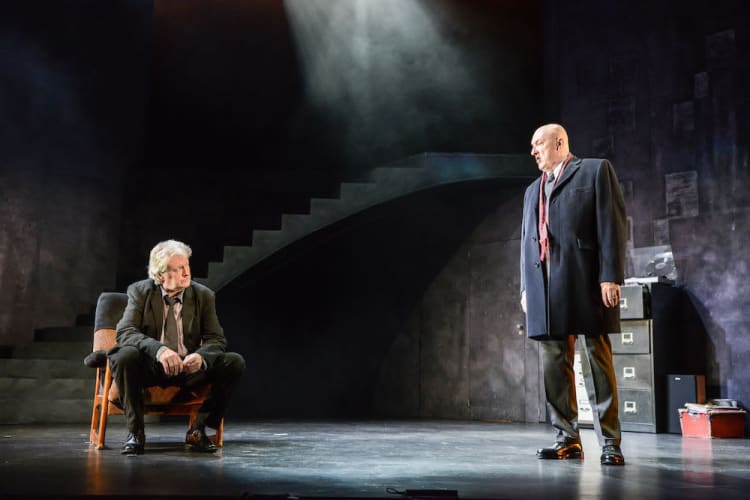 Last year, Ian Rankin was celebrating the thirtieth anniversary of his first novel to feature dour Edinburgh detective John Rebus, Knots and Crosses, but, despite various TV and radio adaptations, he has never appeared in a stage adaptation—until now.
Since his reluctant retirement from Police Scotland in Exit Music in 2007, Rankin has had to look for different ways to reunite Rebus with his former junior, Siobhan Clarke, and get him involved in a case. Here, he comes across a cocky young girl on the stairwell outside his flat and it turns out she is the daughter of a murder victim from 17 years ago whose case was never solved.
At the same time, Siobhan is working on a similar case from the 1990s where the murderer has recently been identified due to better forensic techniques, especially DNA analysis. However, the defence has something that may cast doubt on the security of an earlier conviction for their client when he served time for attacking notorious Edinburgh gang boss 'Big Ger' Cafferty and it appears that Rebus is involved.
This brings back together the two Edinburgh hard men who have been locked in combat for more than thirty years, first in Rebus's scruffy flat, amongst his empty bottles, vinyl collection and old case files, then in Cafferty's luxury flat overlooking The Meadows.
This is Rankin's second work for stage, having previously collaborated with Mark Thomson when he was artistic director of Edinburgh's Lyceum Theatre on Dark Road in 2014. This time, he has collaborated with Scottish playwright Rona Munro.
There's an element of the 'whodunnit' about this story, but there isn't sufficient space or enough characters to carry this off as effectively as it can be done in a novel or on screen. Where the pages of Rankin's novels are soaked in Edinburgh's geography and culture, the grey, characterless walls of Ti Green's set, imposing enough to make the characters look small and insignificant, could be pretty much anywhere. Because of the limited locations, some early scenes contain a lot of static scenes of explanations—I confess I wasn't taking all of this in.
The real central focus of the play, and the most successful part of this production, is the confrontation between Rebus and Cafferty, two men who are in many ways very much alike despite being on opposite sides of the law—both have been accused by their own people of getting too friendly to the other (in the novels), but despite the civility they both show towards the other, the competitiveness and old grudges never go away. Rebus has always been a rule-breaker though not corrupt, but Cafferty may have something big on him.
The pleasure of this scene is in the way Rebus tries to turn this around to restore the balance of power—he uses the old Cold War term 'Mutually Assured Destruction'—so, while there are crimes that go unpunished, there is a kind of peace at the end, albeit one that could erupt into something much bigger in a later story.
Charles Lawson is a perfect John Rebus, embodying the character from the novels as well as Ken Stott did on TV, and John Stahl is similarly exactly right for Cafferty. Cathy Tyson's Siobhan Clarke is a rather bland character, certainly not the troubled but brilliant detective from the novels.
Dani Heron and Eleanor House haunt Rebus as murder victims Angela and Maggie whose killers have still not been brought to justice, but after their first appearance, all their subsequent scenes are a little repetitious and just look like they are there to cover scene changes. House is also very good as Maggie's daughter Heather, with Neil McKinven filling in all the other male characters.
Overall, this is a bit of a mixed bag. There are some great scenes and interesting new revelations, but it seems quite superficial compared to the rich, layered textures of the novels, the characters' world seems isolated from ours rather than commenting on it and the plot lacks focus until the final scene, coming across more like a fragment of a larger story than a satisfying whole.
But there is pleasure in the story for fans of the novels, who will certainly want to know this next instalment in the Rebus story.
Reviewer: David Chadderton