Red Dust Road
Jackie Kay, adapted by Tanika Gupta
National Theatre of Scotland and HOME Manchester
HOME, Manchester
–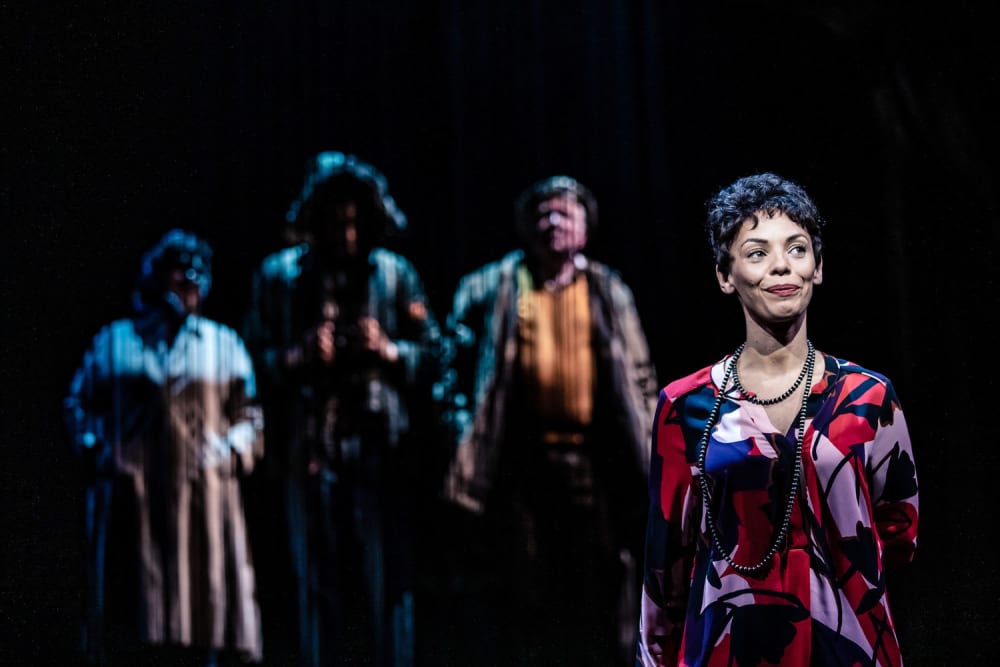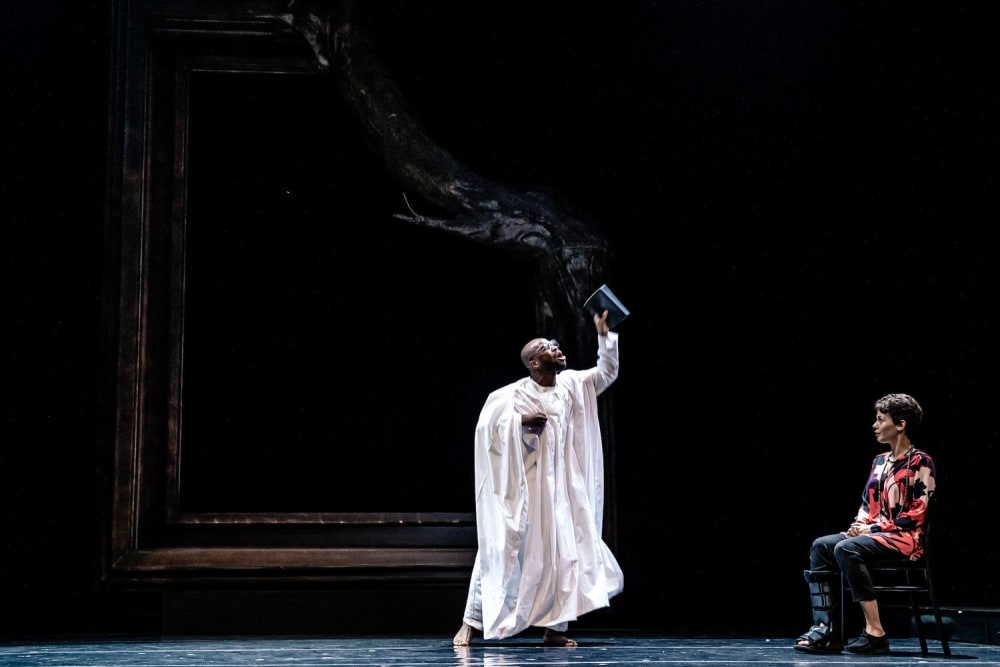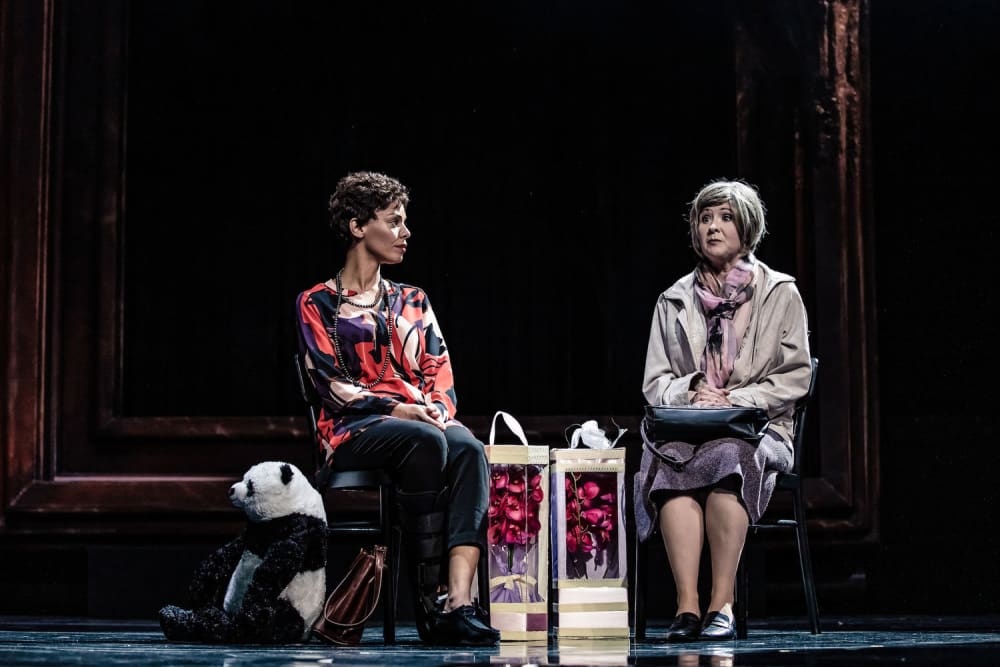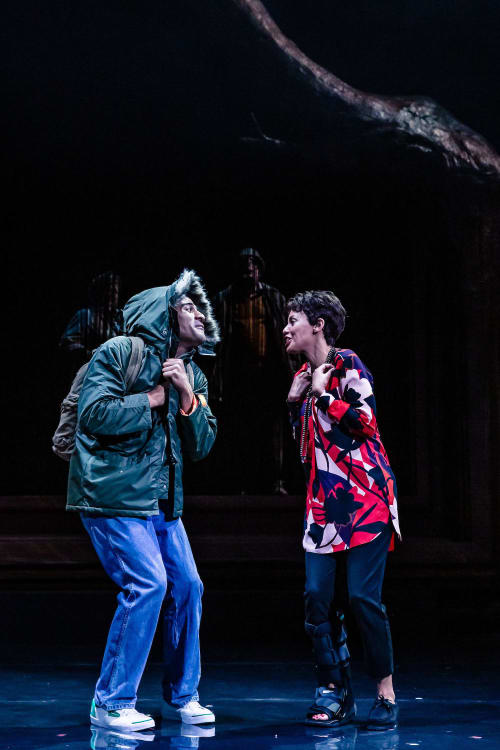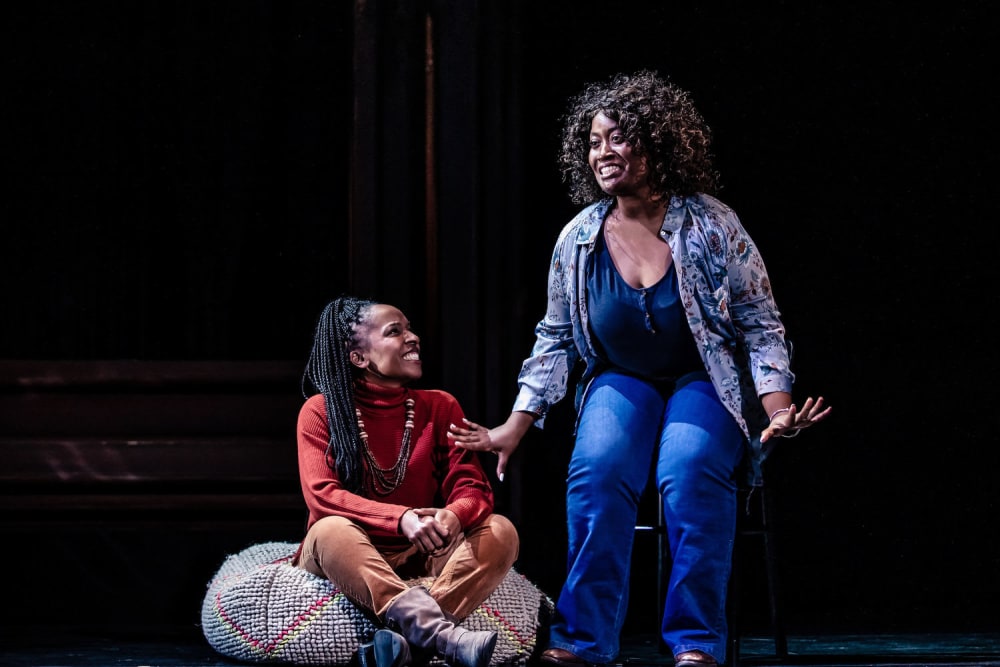 This adaptation of Jackie Kay's remarkable memoir about her quest to find her birth parents was translated to the stage for this year's Edinburgh International Festival and has now made the journey out of Scotland to co-producer Home in Manchester.
I only read the 2010 book earlier this year before I interviewed Kay for the BTG podcast, and I found it an exciting, thriller-like read that somehow managed to keep its forward momentum, pulling the reader willingly along, despite constantly jumping forward and backward in time. I remember thinking at the time how difficult it would be to achieve this on stage.
Jackie Kay, internationally renowned poet and the current Scottish Makar, was born from a brief affair between a white nurse from the Highlands of Scotland and a black Nigerian student and was adopted at birth by a white working class couple in Glasgow who were members of the Communist Party. She meets her birth father (she refers in the book to her "birth mother" and "birth father" to distinguish them from her adoptive parents, whom she refers to simply as "mother" and "father"), Jonathan, for the first time in a hotel in Abuja; he has become a born-again Christian preacher and, after an elaborate blessing, accepts her as his daughter but will not introduce her to the rest of his (and her) family. Similarly, she meets her birth mother, Elizabeth, in Milton Keynes—she is a Mormon—and she also doesn't want to reveal her existence to the rest of her family up in Nairn.
Like the book, the play begins with Jackie's first meeting with her birth father, a wonderfully eccentric character recreated accurately and with great energy by Stefan Adegbola from how Kay describes him. This portrayal gives a lively opening to the play, but the character of Jackie functions solely as a narrator and interviewer at this stage, not giving actor Sasha Frost very much to go on, which may be why some of the lines seem overplayed for emotion. It isn't until much later that Jackie becomes more of a human being, although Frost certainly sounds quite like the real Kay.
Where the book manages to feel like it is carefully structured to lead the reader through the chronological jumble, the play seems to jump around at random without any real purpose. There are scenes that serve little function in the story as a whole, a lot that adapt Kay's prose descriptions into dialogue in a very simplistic way by having Frost speak them with unconvincing interjections from other characters and several scenes of reminiscence or discussion where characters tell one another things they already know to clumsily communicate them to the audience. There are a lot of scenes where events involving characters who have appeared elsewhere in the play are described in dialogue when they could easily be shown as scenes, which would make them seem less static and wordy.
Having said that, there are some nice scenes, which are generally lifted directly from the book, such as Jackie's first meeting with her birth mother which is moving and beautifully delivered by Frost and Irene Allan. Others are glossed over or curtailed, and some of the scenes that I found most memorable from the book aren't here at all: the violent racist attack in the tube station when a respectable man in a suit sided with her attackers, the trauma and real danger of the 12-hour drive to her father's village, her feelings at tentatively entering the compound where her father lived without him knowing. The extremes have been ironed out to make everything feel much safer than in the book.
There are lovely performances from Lewis Howden and the great Elaine C Smith as Jackie's adoptive parents John and Helen and an ensemble of actors who play multiple roles impressively—Simone Cornelius, Elicia Daly, Seroca Davies and Declan Spaine—although there is some unconvincing 'adults playing children' acting and some of their characters are little more than devices for delivering chunks of story to the audience.
The book is highly recommended and is not an easy text to dramatise. This adaptation doesn't really solve the problems unique to this book and falls into many of the general pitfalls of literary adaptation. That said, there is much about it that is enjoyable and revealing and the second half, once Jackie sets out to track down her father's village and the rest of her Nigerian family, has more of a sense of purpose, but overall it felt to me a lot longer than it actually was.
Reviewer: David Chadderton