Red Riding Hood
Book and lyrics by Carl Miller, music and lyrics by Robert Hyman
Theatre Royal Stratford East
–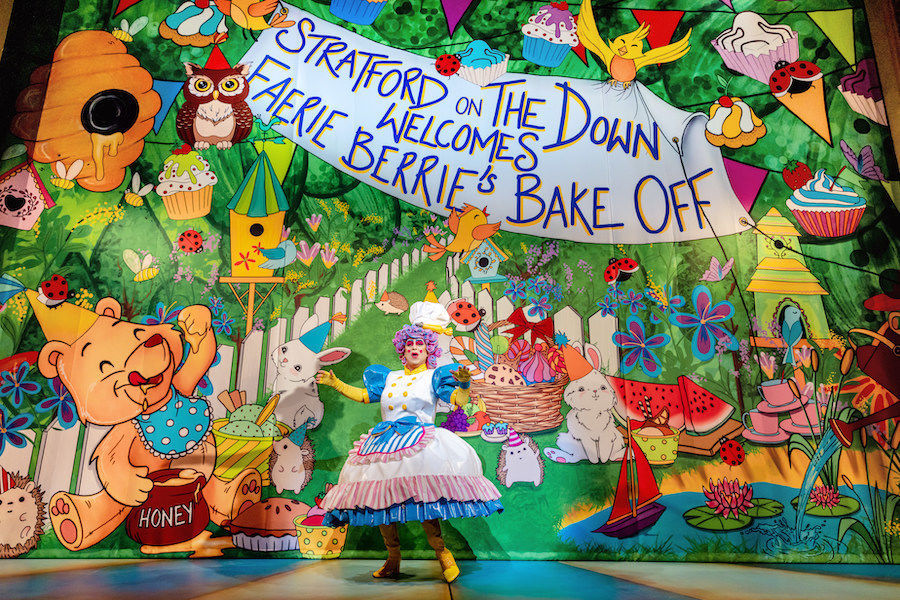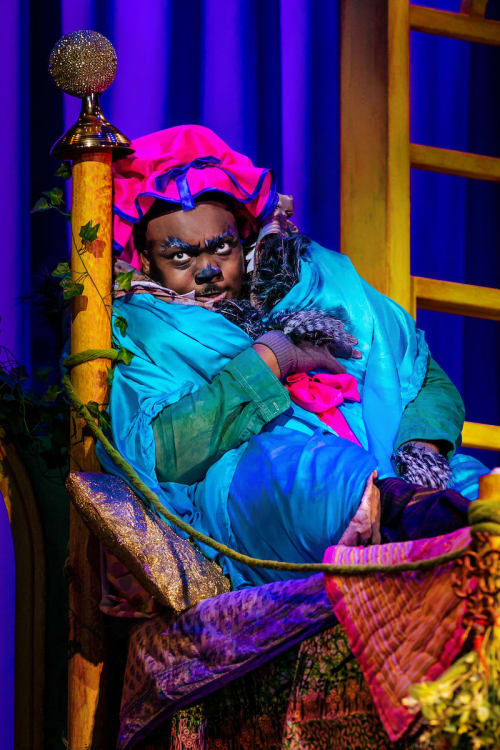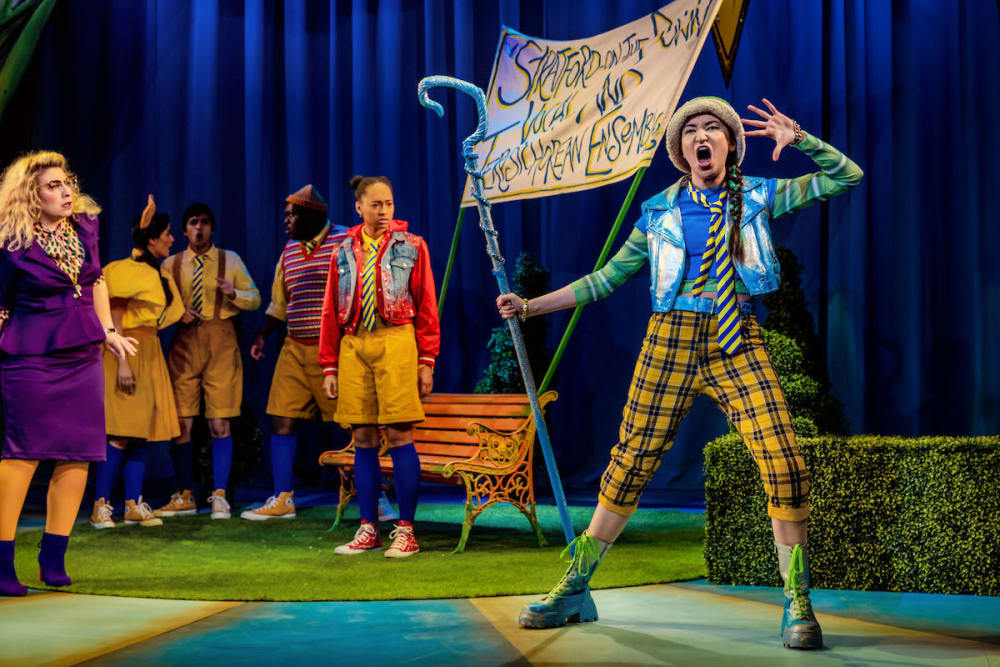 Planned for last year's panto, it has been a long wait for Stratford East's Red Riding Hood and during the delay it has gained a new writer in Carl Miller, who brings things up to date with heroine Red concerned for the planet and her Gran with an eye on a celebrated cookery competition.
Both script and Robert Shaw Cameron's direction take a less raucous approach than many traditional pantos and there is less audience participation than usual but there is still a Dame and a thigh-slapping forester and a chance to yell "It's behind you!" There isn't a song sheet as such but there are plenty of songs with some chances to sing- or clap-along and a place found to announcing audience birthdays.
There isn't any pre-show warm-up but the set in place presents a garden of well trimmed hedges with white rabbits (on wheels) roaming around it, though strangely they never turn up in the action.
Stratford-on-the-Down seems a well-ordered place but it has some serious problems. Bow (sic) Peep has lost her sheep, the three little pigs have gone missing and what has happened to 101 Dalmatians?
Red Riding Hood gets kicked out of the school choir and now needs to get to her gran with her special medicine and her groceries, but Red's selfie-obsessed mum and the deliveries of things mum has ordered online that keep arriving delay her leaving. When she does get on her way, she hears strange cries from the wild wood: it's the Seasons Tree calling out for help.
Red meets a wolf in the wood and doesn't realise she's in danger, but we in the audience know better. Where have the missing creatures gone? Wolf has eaten them.
Who needs Red most? Granny or the Tree? Fortunately, there is help at hand: Wolfie, son of Wolf (don't worry, this likeable lad is a vegan) he'll go to gran's while she… but, of course, it isn't that simple.
Elise Zavou, making her adult professional debut, is a fresh-faced, lively Red Riding Hood with whom ecologically concerned youngsters can connect, while her hood gives her special contact with nature.
Raphael Bushay is a rather likeable Wolf; he can't help being carnivorous, though pulling his hood over his head makes him dangerously threatening. Phil Nichol is a dame who doesn't overdo things, though this Granny, fond of her tipple, is self-centred, her daughter-in-law even more so.
All of them get devoured alive, joining Bow Peep (Ashley Goh) and her flock who have already been eaten. They escape together by the only route that's available. This is fairytale given down-to-basics reality.
There is no fairy prince or wedding walk-down, though forester Woody (Jodie Jacobs) gets to propose to Red's Mum (Kirsty Whelan). There's no Buttons-type heroine's sidekick either; Luke Latchman's Wolfie comes closest to that role and he wins a place in audience hearts with a charismatic performance that matches this theatre's panto tradition.
This Stratford Red Riding Hood isn't as subversive or pointed as some of its predecessors but is clear storytelling full of warmth and humour. It is good to be back in this lovely theatre.
Reviewer: Howard Loxton