Red Skies
Ivan Cutting
Eastern Angles
Sir John Mills Theatre, Ipswich
–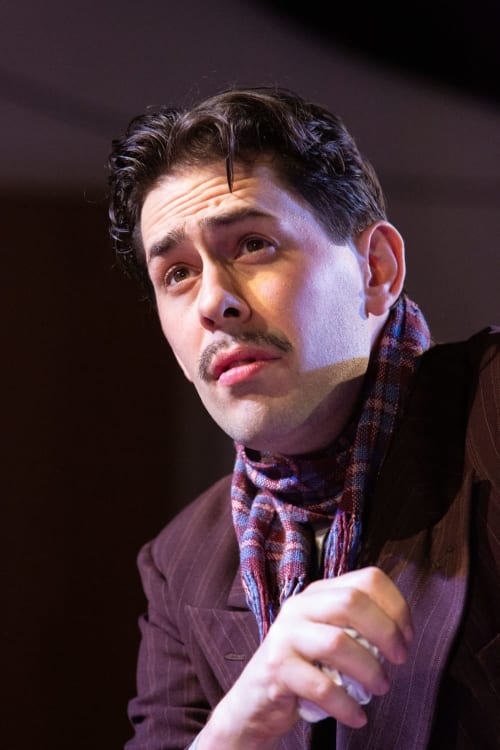 George Orwell: one of Britain's most insightful writers and author of arguably two of the most famous books of the 20th century: Animal Farm and 1984. Arthur Ransome: one of the most successful children's writers of the 20th century whose tales of boating on the River Orwell won him legions of young followers.
Both were in Suffolk just before the war, both had strong political views, but did they ever meet?
This is the premise of Eastern Angles' latest play, one that has been a number of years in the making having started out as a 'script in hand' pub crawl for an Ipswich festival and subsequently cancelled by COVID just before its full opening last year. But it has been worth the wait.
Set on a raised platform designed by Ian Teague that doubles as both Ransome's boat, a fishing stream in the Lake District and a hospital ward, we follow the burgeoning and changing relationship between the three main protagonists as they size each other up with conversational sparring against the backdrop of impending war and the social upheaval of its aftermath, always with the threat of literary failure or political exposure and the underlying suspicions that they might well be spying on each other.
The play starts at Southwold on Ransome's new boat where he has moored on a trial run to the Broads in case war breaks out and he has to hole up the vessel. Orwell is in the town for his father's funeral and discovers Ransome is in the vicinity and decides to seek him out. Or is he deliberately tracking him down to spy on him?
Arthur Ransome, escaping a terrible marriage, had travelled to Russia but subsequently got caught up in the Bolshevik revolution. Falling in love with Trotsky's secretary Evgenia, they had fled the country but are still carrying the scars of their shared experience.
George Orwell, who had changed his name from Eric Blair, had also had a torrid time in the Indian police force in Burma and defied his father by abandoning that career and pursuing the life of a novelist, albeit an unsuccessful one. He is also suffering from TB and the effects of being shot while fighting in Spain.
So the three of them meet, first at Southwold, later after Orwell's wife Eileen has died and the war is still raging, thirdly on the Lakes in the aftermath of peace and finally at the hospital where Orwell is terminally ill.
Laurie Coldwell is a brilliant Orwell, refusing to be rattled, always with an answer, a clever man who knows it, yet an enigma for all his intelligent sparring.
Philip Gill is equally good as Arthur Ransome, blustery at times, typically English and self effacing but with a core of steel that has carried him through some hair-raising escapades and life-chilling adventures.
Completing the threesome is Sally Ann Burnett as Evgenia, a brilliant counterpoint to the two men, believably Russian, undeniably loyal to her husband but with an underlying seam of secrecy and stubbornness that is impossible for either him or Orwell to penetrate.
The final member of the cast, Bronte Tadman, briefly portrays all the women in Orwell's life with short one-sided conversations interspersed to break up the scenes, although she does get to interact with the rest of the cast in the last scene as prospective new wife Sonia.
But this is mainly a three-hander where the characters' conversations play out against a backdrop of a changing political landscape and potentially high stakes for all of them.
This is a serious drama, so not a lot of humour, and there is not much in the way of action either as most of the drama in the story is reported. It will also help if you know something about the authors and their work. But the pace is cracking, the writing superb and the actors so good at embodying their characters, it's hard not to get drawn in to their arguments and their world.
Well directed by Nicola Pollard on a cramped yet very versatile set, this is probably the best thing Ivan Cutting has ever written and a must-see if you have a love for the books of either men.
Arthur Ransome and George Orwell never met—or did they?
Reviewer: Suzanne Hawkes