The Red Shoes
Based on the story by Hans Christian Andersen; adapted and directed by Emma Rice; poems by Anna Maria Murphy; music by Stu Barker
Kneehigh
Northern Stage, Newcastle, and touring
(2010)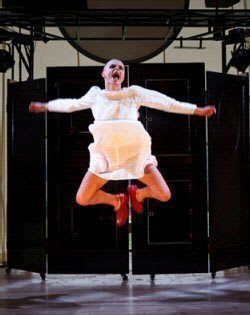 How did we ever think Hans Christian Andersen is suitable for children? The Red Shoes is a real Texas Chainsaw Massacre of a story, dark and bloodthirsty - and very, very scary.
But of course, that's what children like. They're not put off by blood and guts and gore but rather revel in them. The comments I overheard last night after Kneehigh's production at Northern Stage were variations on a theme of "I don't remember it being so black and bloody". But of course it is and I doubt that any of the adults in the audience (and it was mainly an adult audience: very few youngsters) were scarred for life by enjoying the story as children. But they might be as adults if it were played for real!
But Kneehigh don't play it for real. There's lots of red fabric masquerading as blood and some quite horrifying sound effects, but this isn't a horror movie. It's a cabaret, almost a circus, with a transvestite Lady Lydia as MC, on-stage musicians (and actor-musicians too) and somewhat clownlike shaven-headed figures in grubby vests and Y-fronts, switching, with a change of costume here or putting on a hat there, into all the characters of the gory tale, from old woman to priest, from soldier to butcher. After our little girl has had her feet cut off ("Bite on your hand if it hurts, darling" - ouch!), the shoes continue dancing on their own on the end of fishing lines manipulated from the upper level of the versatile but very simple set, designed by Bill Mitchell.
It's a very adult take on the story - grim, grisly and very funny. And if there were a few gasps of shock at times, it was all good fun! Physical, musical, dark, delighting in it goriness, with bleak, black humour. Is it any wonder the Newcastle audience lapped it up?
The production is actually a revival. It was first performed in 2003, recognisably so, and is very different to later works such as Cymbeline, Brief Encounter (currently playing in Minneapolis) and Don John, although they do retain the irreverence and inventiveness which has characterised the company throughout its life.
At Northern Stage until 23rd, the touring to Warwick (26th - 30th Oct), Chichester (2nd - 6th Nov), New York (19th Nov - 12th Dec) and Battersea Arts Centre (2nd March - 9th April, 2011).
Terry O'Donovan reviewed this production at Battersea Arts Centre
Reviewer: Peter Lathan