The Red Shoes
From the story by Hans Christian Andersen; adapted and directed by Emma Rice; poems by Anna Maria Murphy; music by Stu Barker
Kneehigh
Battersea Arts Centre, London
To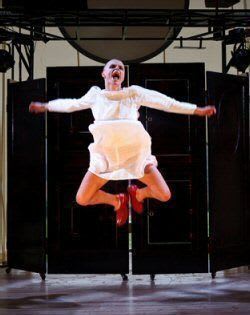 First staged in 1990, this esteemed production by the now revered Kneehigh arrives in London in the same month in which the company presents The Umbrellas of Cherbourg in the West End. It is a testament to the strength of the production and the company that The Red Shoes revels in the rustic nature of its first outing. The first row of the audience sit on bales of hay, lending the Battersea Arts Centre's Great Hall the feeling of being a town hall rather than a cutting-edge theatre.
Based on Hans Christian Andersen's fairy tale, director Emma Rice presents us with a troupe of storytellers laid bare in white vest and underpants, brimming with uneasy tension. Dark shadows circle their wide eyes, which slyly interrogate us. Tentatively, they wash their feet in grubby buckets and don matching black clogs before the vampish Lady Lydia storms onstage. Played pitch-perfectly by Giles King, she comes across as so many faded drag queens do: witty, glamourous, scarred, and saddened by having seen too much in this life. She is compelled to share with us this story of joy, fear, independence and pain.
Lady Lydia narrates the tale as a cocktail of music hall, cabaret and street theatre, confidently reigning down on us from a tall scaffolding. The underwear-clad ensemble battle to play 'The Girl', which goes to the only actual woman onstage - the haunting, shaven-headed Patrycja Kujawska. She is handed a suitcase with her name on it, out of which the skeleton of a costume emerges - without shoes. Our "sad and lonely" heroine is mourning the death of her mother, and has nothing, until she is spied upon by a blind old lady who provides for her the red shoes of the title.
The rest of the cast morph in and out of the myriad of characters we meet on the girl's tragic journey. There are plenty of laughs - especially from Mike Shepherd as both The Butcher and the "amazing" escapologist and levitating Janine who has nothing in particular to do with our narrative, but provides inspired comedic moments that have the entire room cackling. The dry, very British humour propels us gaily through the storytelling, so that when tragedy strikes it is devastating and gut wrenching. Whilst the choreography is simple, bright and undemanding throughout, as the red shoes overwhelm The Girl, she and her storytelling compatriots stamp out a thrilling dance of agony. It is the highlight of the show.
Rice and her company of performers (including two identically dressed musicians) have created a formidable production, in which it is strikingly clear just how influential Kneehigh's style has been in the twenty-one years since its premiere. As the BAC celebrate their 30th birthday I look forward to being delighted by similarly funny, clever and ultimately poignant performances.
Peter Lathan reviewed this production on tour in Newcastle
Reviewer: Terry O'Donovan