A Red Threatening Sky
Written and directed by John Harrigan
Foolish People
The Abattoir, Clerkenwell
(2010)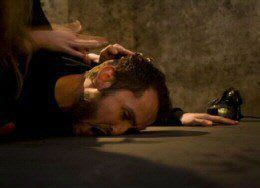 Another of Foolish People's atmospheric site-specific productions, this one set in what is supposed to be the Club Aethereus on Valentine's Day. It is a very strange kind of club owned by the mysterious Sebastian Qyain who seems to be trying to get his hands on something or someone. There is what seems to be a cabaret area with a stage marked out by a bulb-illuminated cat-walk but it embraces all sorts of other locations too among the pillared and vaulted halls and strange rooms of the Abattoir's three floors. There is a tea room where you may be offered cakes and scones as the Welsh waitress (Charlotte Gray) tells you about her love life, a hotel room where unpleasantness happen, a doctor's office and her consulting room, a strange place, part tent part tumbled-down shack, where a receptionist seems more like a controller, a washroom-cum-dressing room where cabaret girls congregate and may confess their romantic disappointments or challenge you with your own erotic failures.
Then there are the Valentinians - are they a family or a secret society? - represented by a mysterious woman in black and red (Tania Batzoglou) who want someone to find a missing woman called Pearl who seems to have been abducted. Perhaps the waif-like creatures (Johan Stjernholm, Reiko Mor and Fumi Sakamaki) whom you may encounter anywhere performing their slow, contorted choreography are Valentinians too.
First, at the beginning of the evening, if you have booked into that time-slot, you find yourself with Harry (John Harrigan), being interrogated by a woman with a clip-board and unable to remember anything. She seems to be trying to excavate his memories of a past affair between them, one that has left her hurt and damaged, .but this is a show in which meanings change and situations take dramatic turns. However you will continually encounter explorations of the basis of relationships, romantic guilts and erotic longings. When these first characters depart the space the audience is divided and you get the chance to follow your own story sequence keeping with one character or switching to another scene when you encounter it.
As you freely roam these spaces or chase after a disappearing character you create your own version of your encounters which may be intense in the moment but offers no clear narrative sequence. Narrative is not really its point rather it is an immersion in ideas and emotions. What will be the message in the envelope handed to you, if you are one of those that get one, or the motto picked from a canister proffered by one of the girls in the cabaret? Sometimes you will be part of a circle of spectators, sometimes the lone auditor to a secret conversation or the individual recipient of a caustic personal critique or the cryptic Latin motto spoken by a figure whose bright eyes shine from a dark alcove. You are instructed not to speak so you cannot defend yourself, nor can you interfere, however disturbing the happenings around you, Dr Emily (Laura Gallagher) thrusting a finger into a hole in Harry's head (is this the revenge of a former lover?), a hooded girl with hands and ankles tied, what looks like a random killing, an abduction. There is a woman who now wants a life alone, love is too unsatisfactory, a girl whose idea of romance is Emily Brontë's Heathcliffe and Cathy, others who must possess and control.
Anyone who has lived at all will find moments that will be personally painful but this is a fascinating experience and it is performed with such reality by the actors that it is totally absorbing, though sometimes played with an intimacy that you must strain to hear, and then there is the added engagement of chasing after or seeking out new episodes. When Harry meets the missing Pearl (Lucy Allin) will he recognize her, and will you? When you do you will probably realise that you've in fact already met her. Is Harry innocent or guilty? Is Ray (Jamie Richards) the sadistic tool of Mr Qyain or trying to help her? The questions are not so much about them as about you.
The sequence lasts about an hour but you will need to see a second cycle to try to catch those scenes you missed. There is no obvious ending, for what could be the conclusion has no real finality, you are free to leave whenever you feel you have seen all you want.
Until 20th February 2010
Reviewer: Howard Loxton