Regeneration
Pat Barker, adapted by Nicholas Wright
Touring Consortium Theatre Company and Royal & Derngate, Northampton
Grand Theatre, Blackpool
–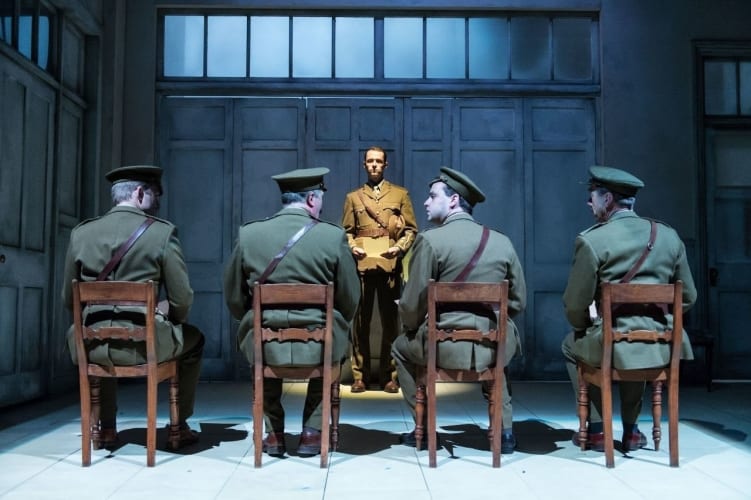 Adapting Pat Barker's celebrated trilogy of First World War novels into a two-hour stage play was always going to result in a wordy drama, and also proves a worthy task.
It roams over the same story as Stephen Macdonald's equally-acclaimed stage play Not About Heroes, the wartime meeting of minds between poets Siegfried Sassoon and Wilfrid Owen, but in more forensic detail. By introducing a purely fictional element into their story—a fellow officer struck mute by his experience of the battlefields—it also adds a dramatic counterpoint to the two highly-articulate characters.
Attempting to 'cure' all three men of their wartime trauma, returning them to active duty and almost certain death, is Captain Rivers, an early exponent of psychiatry. It is this crisis of conscience that is at the heart of the story.
Simon Godwin directs it all with a care not to over-do the battlefront flashbacks too much, but then chooses to overplay a scene involving electro-convulsive therapy more for the horrifying effect on its hapless patient than on the watching Rivers. The moment of what should be a man's epiphany is left overshadowed.
There are uniformly sturdy portrayals of the central characters throughout, led by Stephen Boxer as the doctor; Tim Delap, a suitably patrician Sassoon; Garmon Rhys a puppyishly-excited Owen; and Jack Monaghan as the dour Bradford lad brought out of his silence to reveal an earthy eloquence.
The distressed grey panelling of Alex Eales's stage design works a treat, as do several of its own in-built tricks. Lee Curran's subtle lighting design also adds to the credentials of a competent touring production that remains sharp and precise at the end of its four-month national tour.
Blackpool Grand is again fortunate to be included on a circuit which has taken in several major cities, and along with its recently-announced £1m refurbishment plans is clearly determined to further reinforce its standing.
Reviewer: David Upton