Rehearsal for Murder
Richard Levinson and William Link adapted for the stage by David Rogers
Bill Kenwright and The Classic Thriller Theatre Company
Yvonne Arnaud Theatre, Guildford
–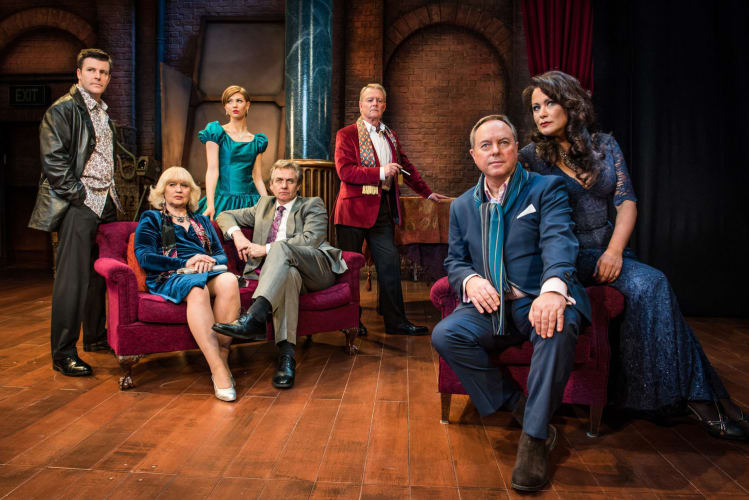 Following the hugely successful Agatha Christie Company, and sticking with much the same theme, Bill Kenwright has created the Classic Thriller Theatre Company with the present production originally written by the writers of Murder She Wrote and Columbo. What better place could there be to present a murder mystery set in a theatre than actually in a theatre?
The story begins a year to the day after the tragic death of movie star Monica Welles who, after starring in writer Alex Dennison's new play, fell from the balcony of her 10th floor flat. The couple were due to be married the very next day; could the excitement of it all have been too much, or were the reviews so very bad? A verdict of suicide was recorded—there was even a note left in the typewriter—but Alex could not believe she killed herself and now he means to find the truth.
The cast from the original production has been assembled to rehearse his new play and it seems as if, Columbo-style, he has invited all the suspects together ready for him to confront the murderer. Every one of them seems to have had a motive, and some alibis are rather less than watertight.
As the rehearsal progresses, things become increasingly uneasy as their actions on the fatal night are written into the script, bringing out secrets not previously known. Suspicion falls on one after another, leaving a lot to argue about in the interval.
Another mystery is the tall man whom Alex has sent to the back of the auditorium and told to keep out of sight. Who is he and why is he there?
As in the best murder mysteries, the plot twists and turns with lots of red herrings and little snippets of information along the way. As Alex tells his actors, the aim is to take the audience by the hand and lead them in the wrong direction—and they do.
Husband and wife Robert Daws and Amy Robbins play Alex and Monica with Daws doing sterling work with very verbose and extensive dialogue to master while on stage for the whole play. He copes calmly and in a friendly manner as he hands out scripts, covering the deadly seriousness of his intentions.
Robbins, despite her early demise, has many appearances throughout the show as they achieve some very cleverly arranged 'flashbacks' and, with her great stage presence, she takes command of every scene in which she appears.
The excellent supporting cast includes Lucy Dixon as Karen: young, excited and very starstruck at first but what a difference a year makes—now very confident, very sure of herself, hard-headed and ambitious and able to deliver some vicious one-liners.
Robert Duncan as David Mathews is most concerned that his character is ageing (not him of course) and Susan Penhaligon, always a pleasure to watch, excels and is still glamorous as the producer keeping an eye on expenditure.
The whole is played out on Julie Godfrey's rehearsal stage set with very few changes necessary. Roy Marsden directs with style and a view to keeping us all in suspense.
Although afterwards it's easy to pick a few holes in the story, I can pretty well guarantee that whoever you thought it was—it isn't!
Reviewer: Sheila Connor