Relatively Speaking
Alan Ayckbourn
Mill at Sonning
Jermyn Street Theatre
–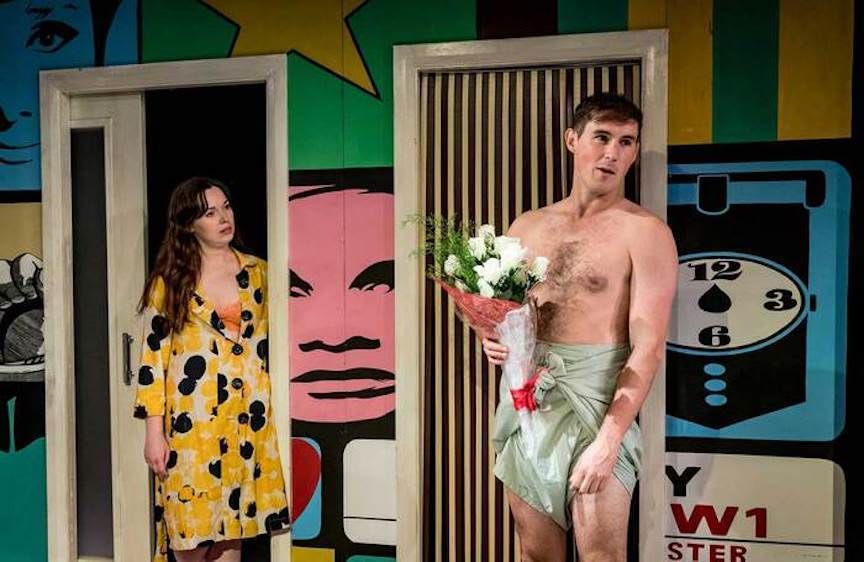 It was back in 1967 when Relatively Speaking opened at the Duke of York's Theatre after a première in Scarborough in 1965. Ayckbourn had already written half a dozen plays but this was his first West End success.
Pre-computers, Internet, mobile phones and decimal currency, it is stuck in its period both in plot and in theatrical style and Robin Herford's production (first seen at the Mill at Sonning) reflects that.
It is only month since Greg (Christopher Bonwell) has been with his first girlfriend but he has moved into her bedsit and already he is asking her to marry him. Ginny (Lianne Harvey) doesn't exactly say yes and suggests her dad might find that soon. She's about to spend the weekend with her parents, so he decides to follow her and, like a well-brought-up young gentlemen, formally ask her father for his daughter's hand in marriage.
The first act is largely taken up with Ginny's panicky preparations for leaving and with dropping clear clues that things aren't quite what they seem. Greg starts his day full of propriety, fashioning his bedsheet into a bodysuit without revealing his nakedness (it got a round when I saw it) but the following exchanges aren't played so deftly. Ginny says Greg is good in bed but he seems more stupid than likeable and a much lighter touch is needed as Ginny thinks up reasons to explain the source of the phone calls, the flowers, the chocolates and the man's slippers he finds and the address scribbled down on a book of matches that she says is that of her parents.
That address in the country is where the action now moves to and, as you will probably have guessed, it isn't Ginny's parents' place. What follows is a game of misunderstandings. Home counties good manners and plotting convenience ensure that no one asks the obvious questions that would uncover the real situation.
Farce almost always requires accepting something incredible as being possible and 1967 West End audiences accepted Ayckourn's impossibilites, today's have to too.
Greg thinks Sheila (Rachel Fielding), the woman he finds on her sunny patio, is Ginny's mother. She is really the wife of Ginny's ex-lover. It isn't really a spoiler to tell you. The play relies on what the characters don't realise, not on audience ignorance.
Ginny has come down to the country to finally break off her relationship with Philip (James Simmons) who, judging people by his own actions, suspects his wife also may have a lover.
It is now that this production takes off with (literally) the blink of an eyelid for Rachel Fielding has immaculate timing and knows just how to play this kind of comedy. What had been too forced before now becomes really funny. James Simmons also knows his stuff and the younger couple seem to learn how to play the game: this artificial construct soon becomes great entertainment.
If you are looking for theatre raising serious issues, you won't find it here; it would be overdoing it to even call this a comedy of middle-class values. The characters are thinly drawn, and it is totally trivial comic contrivance, but its point is to make you laugh and when it gets going it truly does that.
Reviewer: Howard Loxton