Relatively Speaking
Alan Ayckbourn
Watermill Theatre, Newbury
(2011)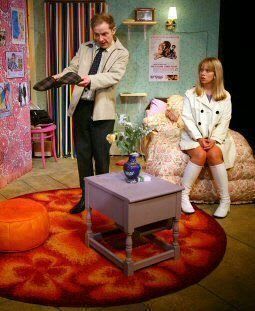 The Watermill's Relatively Speaking is an absolute comic gem. Written over 40 years ago, it established Ayckbourn as a comedy virtuoso.
It was first performed in Scarborough with the original brief from Stephen Joseph, "to cheer up the town's holidaymakers on a wet day" and it did just that on a wet evening in Newbury.
The play is a witty, hilarious and intricate exploration of family relationships, mistaken identities and misunderstandings bordering on farce.
The play begins in Ginny's cramped London flat where her wimpish romantic lover Greg, splendidly played by Greg Haiste, is becoming rather suspicious about the mysterious phone calls, bunches of flowers and boxes of chocolates hidden away in the flat. Then there are the man's slippers under the bed: who do those belong too? And why won't Ginny introduce Greg to her parents?
Ellie Beaven is the captivating Ginny who is allegedly going to visit her parents in Lower Pendon. Greg decides to follow her but arrives ahead of Ginny and so the confusion and hilarity begins.
Ginny is actually trying to break off her affair with the older married Philip, the splendid David Acton, whose mundane life revolves around the golf course and a renewed interest in gardening.
His long suffering wife Sheila, an excellent performance from Gillian Bevan, becomes bemused at the unexpected arrival of Greg but carries on regardless and Greg mistakenly thinks that Sheila is Ginny's mother creating even more commotion.
Ginny expected Sheila to be in church so the embarrassment continues and Philip believes that Greg is his wife's lover.
Greg is determined to ask permission from Philip to marry his "daughter" leading to the most preposterous situations.
Director Orla O'Loughlin has remained faithful to the 60s period in this fast paced piece, with a beautiful set design by Anthony Lamble and lit by Philip Gladwell.
This was a hugely entertaining play performed by an accomplished cast and thoroughly enjoyed by the enthusiastic audience. Highly recommended.
Runs until 26th March
Reviewer: Robin Strapp