Religion and Anarchy
Steven Berkoff
Jermyn Street Theatre
–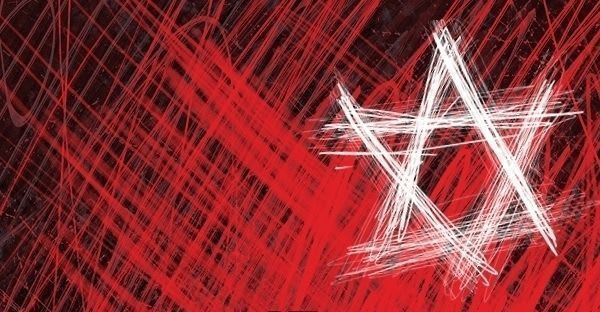 Steven Berkoff has always seemed an angry and passionate man, never more so than in this collection of five of his short plays which he here directs in partnership with Jermyn Street Theatre's Associate Director Max Barton.
Each of the plays adapts a different style and is given a different kind of stylisation in a beautifully balanced production that is simply mounted against Cherry Truluck's adaptable screens and makes haunting use of music and sound (by Josh Anio Grigg).
They all relate to anti-semitism beginning with How to Train an Anti-Semite. This begins with an English housewife expounding on Israel's treatment of the Palestinians with arguments that might be voiced by any Western liberal and sound plausible enough but soon degenerate into racism, so that, instead of illuminating her racist husband, she trots out all the negative images that applied to Jews for centuries.
They are played by Clive Mendus and Gillian Wright with coarse vitality, taking great relish in miming all their props whether boiling water and making tea or rolling a fag and then enjoying it.
That is followed by Guilt which seems at first the sort of affectionate caricature that Jews so often draw among themselves: an old couple reminiscing about the Kosher Deli that used to be round the corner and each of their mother's cooking, and thinking of the son who rarely comes to visit. It is often very funny but, as it continues in the same vein, it begins to read as a negative picture, however indulgent and full of Yiddish catchwords.
Is the title guilt that of the husband, praising his mother's cooking to the skies and hastily remembering to assure his wife she cooks just as well, of the Jews who paint such pictures of themselves or the goyim who like to laugh at them? This very different couple is again played by Wright and Mendus. Tom Lincoln, staying outside the scene, wordlessly shows the son's reactions. This time the style is exaggerated gesture that is sometimes frozen emphasising the cartoon quality of the content.
There is no doubt about where the guilt lies in the three plays after the interval.
In Roast (as in the oven) a posh mum tells her child a bedtime story about the little son of a wicked Jew. He went to church with a Christian friend and his father reacted violently when told about it. Wright is the mother and Lucy Hollis the child, playing with an artificial niceness that could be a caricature of West End acting of the 1930s. It gives the storytelling a comic edge but adds horror to the shock ending.
Line-up is totally explicit. Two exhausted men, unloaded from the cattle truck transport, approach the concentration camp selection point where those who are fit to work will be separated from those for the gas-chambers. They've lost their wives, they have lost everything, but one urges the other to make himself look work-fit, not just to survive but to tell the world.
Anthony Barclay and Tom Lincoln present them struggling forward, one raging and determined, the other's resolve ebbing and flowing. They play with the fatality of Greek tragedy, always out front, their anguish emphasised by Paul Macleish's careful lighting.
The final play, Gas, presents three men, near naked, coiled in a slow moving group, like Lacoon and his sons. Both alone and together, each faces death in his own way. It is beautifully played by Mendus, Barclay and Lincoln and greatly moving creating an image that stays on the eyeballs with the words filtering through it.
This fine achievement makes an excellent start to Anthony Biggs first full season as Artistic Director at the Jermyn Street Theatre.
Reviewer: Howard Loxton