Relatively Speaking
Alan Ayckbourn
A Theatre Royal, Bath production
Theatre Royal, Newcastle, & Touring
(2008)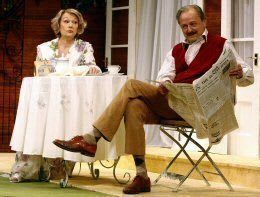 As the curtain rises for Alan Strachan's production of Relatively Speaking the psychedelia of the swinging sixties illuminates the stage, dazzling audiences with flower-power and transporting us to the glorious days of the revolution.
Relatively Speaking explores and contrasts two very different worlds of the 1960s, coming together in a way that only its author can make happen, flush with confusion, misunderstandings and, ultimately, humour, making this another classic comedy of manners from the legend that is Alan Ayckbourn.
Greg (Robin Whiting) wants to marry his girlfriend Ginny (Siobhan Hewlett) though she seems reluctant for him to meet her mother and father. Along with Ginny's reluctance Greg's suspicions are further roused by dodgy phone calls, mountains of flowers and the constant delivery of chocolates to her flat - not to mention the incriminating, size-10 slippers found strewn under her bed. As Ginny heads off to the country to see her 'mother and father', Greg thinks this is the perfect opportunity to meet them himself and sets off to follow her. Arriving first to The Willows, Greg wastes no time in asking the owners, Sheila and Philip, for (what he thinks to be) their 'daughter's' hand-in-marriage. Middle-class manners create a rather confusing day with the entanglement slowly beginning to unravel for all concerned.
Designer Paul Farnsworth has created breathtaking sets for this production with the luminous colouring of Ginny's dishevelled flat set in pure contrast to the glorious country manor, The Willows. In fact, the creative team have designed this production with gusto, complete with foot-tapping songs of the sixties which the audience couldn't help but sing along to.
Undoubtedly the true spectacle of the show lies in the writing of Ayckbourn being brought to life by the wonderful Peter Bowles (Philip) and Diane Fletcher (Sheila). The lacklustre marriage of Philip and Sheila is played with clarity, humanity and sugar-coated flawless comic-timing proving that 'old school' is the best school! With such a wealth of experience and great presence from Bowles and Fletcher it is difficult not to compare the performances of Whiting and Hewlett and unfortunately there was no comparison to make.
Relatively Speaking is a charming production appealing to all Ayckbourn fans, or, for those who are not so familiar with Ayckbourn, this show is a wonderful introduction to his work. With its remarkable design and stellar performances from two national treasures this production is not to be missed.
"Relatively Speaking" runs at the Theatre Royal until Saturday 14th June.
Reviewer: V Mitchell