The Reluctant Debutante
William Douglas Home
Ian Fricker and Richard Temple in association with Guildford's Yvonne Arnaud Theatre
Yvonne Arnaud Theatre, Guildford, and touring
(2011)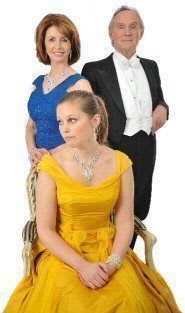 It was not long after this play's first outing in 1955 that 'the season' for debutantes was finally abandoned, the last one reluctantly (or not) hanging up her evening frocks and relegating her dancing shoes to a forgotten corner of her wardrobe to concentrate on a changing world - a world where the 'angry young men' of theatre were demonstrating the gritty reality of everyday life with their 'kitchen sink' dramas. Also to follow were the sixties, the era of hippies and free love, almost foretold in the play with descriptions of the honesty of Malayan natives and their mating.
Honesty and naturalness were absent in the process of fashionable ladies of the period parading their daughters from ball to ball, dressed to the nines and with the object of securing a suitable husband.
"It is little more than refined White Slave Trafficking, and we sit all through the summer waiting for a mating. The whole thing's immoral." These are the words of Clive Francis' Jim Broadbent, the father who is paying out vast sums of money (calculated at £5 a minute) to launch his bored and reluctant daughter into society, all at the insistence of his single-minded and manipulative wife Sheila (Jane Asher).
The dialogue may have had a satirical bite at the time, although treated lightly, and may have been rather shocking with the daughter questioning her father about his previous love life, but today it becomes a very amusing and well-presented gentle comedy looking back ironically at the high society of the era, and it had the Guildford audience involved and laughing from beginning to end.
This was a world very familiar to Douglas Home, a world with servants where breakfast was laid out every morning and laundry mysteriously disappeared every Wednesday to re-appear fresh and clean the next day, but some things never change. A colleague has gained a peerage because "a river runs through his garden and the PM is fond of fishing." Say no more!
Tim Shortall has designed a very elegant and comprehensive set of a fashionable London flat and, presumably without the extensive budget of Balmain who dressed the stars of the 1958 film, has done the ladies proud with some beautiful and seemingly very expensive gowns.
Belinda Lang directs with expertise and the pace never flags, most particularly when, as the rival mother Mabel, she spouts reams of sparkling dialogue seemingly without the need to draw breath. There were, admittedly, a couple of moments when the play almost tipped over into farce, saved by the skill of the expert and experienced cast members with Asher's "Isn't this tremendous fun" as she gleefully hides in the kitchen to keep an ear open for her daughter's conversation, and there are some wonderful comic moments from Francis trying desperately to cope with it all.
Louise Calf as daughter Jane, making only her second professional stage appearance since graduating, is a joy to watch, performing extremely naturally as a bored (but exquisitely polite) teenager, yet beginning to assert her independence. Of course the 'bounder' she falls in love with turns out to be the right man in the end and all ends happily.
It is good to escape the 'kitchen sink' once in a while to enjoy the serious frivolity of a bygone marriage market, while being very glad not to have been part of it.
Touring to Brighton, Cambridge, Richmond, Cheltenham and Bath
Reviewer: Sheila Connor