Rendezvous: The Light / Currently under Construction / Words with Love /Anti-Gravity / Everything Is Wondrous
Deborah Bruce / Laura Lindow / Nina Berry / Holly Reed Macrea / Amy Golding
Live Theatre
Live Theatre, Newcastle
–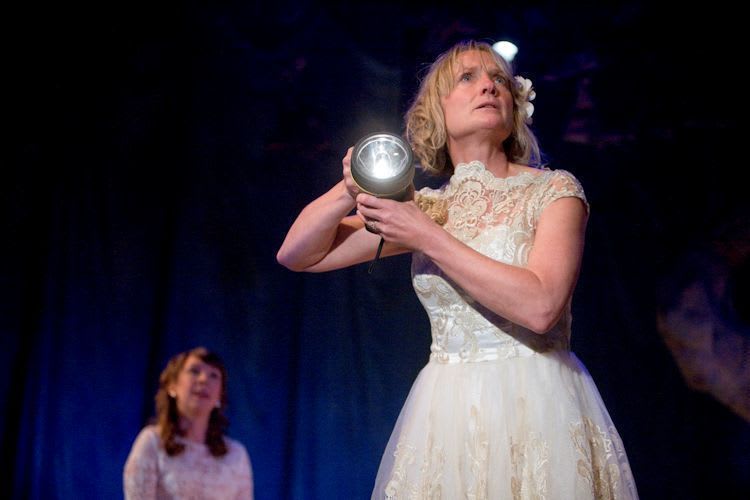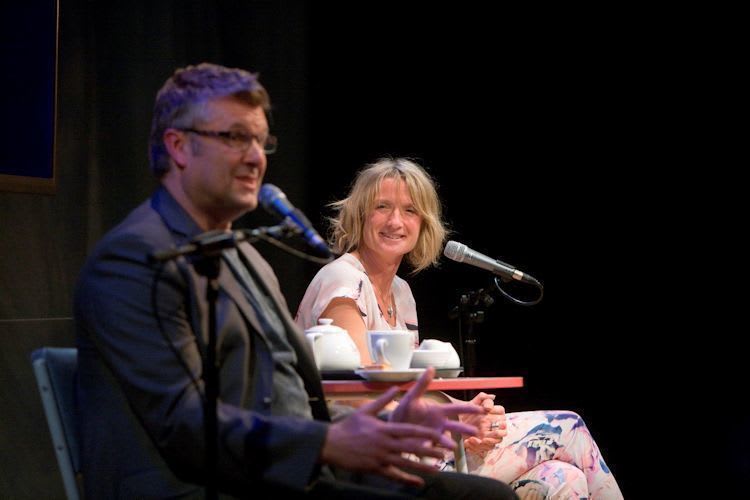 Poet, novelist and playwright Julia Darling died at the age of 48 in 2005, having been diagnosed with breast cancer in late 1994. From 2000 to 2002 she was writer-in-residence at Newcastle's Live Theatre. To commemorate the tenth anniversary of her death, Live has commissioned five women writers, both established and emerging but all with a connection to the region, to write short plays inspired by her work.
In Deborah Bruce's The Light, it's Charlie (Karen Traynor) and Jack's (Zoe Lambert) wedding day but we find Jack, in her wedding dress, alone outside the evening reception, desperately shining a light seawards. With the guests wondering why it is taking Jack so long to change, Charlie comes to find her. In the ensuing conversation, we learn of Sam, Jack's previous lover, now deceased, and how they had sworn that they would always be there, remembering each other, shining a light across the sea. Now, today of all days and for the first time, there is no light from Sam.
Bruce explores how we cope with loss and how we sensitise ourselves to possible future loss in an emotional conversation which is simultaneously delicate and powerful. It's a beautifully written piece, sensitively directed (by Clive Judd) and performed, culminating in a very satisfying—if totally unexpected—dénouement.
Laura Lindow's Under Construction is a conversation between Clown Doctor Charlie Dander (Phil Corbitt) and 17-year-old heart transplant patient Aaron (Dean Bone). Lindow has worked as a Clown Doctor for nine years and so is able to illustrate the subtlety and self-effacing nature the work needs when faced with a patient whose experience of living with serious illness makes him frightened and needy, quick to hit out but desperate for solace.
Both actors are totally convincing, with Bone really capturing Aaron's vulnerability, overlaid with that typically teenage defensive aggression. Yet another sensitive and compassionate piece of writing, sensitively directed by Anna Ryder.
Teenagers are at the centre of Nina Berry's Words with Love, a multi-layered piece, leavened with quixotic humour, which mirrors the way in which Julia Darling used letter writing and (as all poets do) delighted in playing with words.
Anna Ryder directs Dean Bone as Nick and Lauren Kellegher with a deft, light touch as they play out a story which reflects a story they are studying(?), exploring(?). The whys and wherefores are really not that important; what is is the developing relationship, the emotional changes, the shifting moods, the twisting and turning interplay of status.
Light and amusing, certainly, but definitely not lightweight. A fitting way to end the first act.
The second act opens with Anti-Gravity by Holly Reed Macrae, directed by Clive Judd. The plot is simple: Martha (Karen Traynor) is diagnosed with an incurable (although not terminal) degenerative disease and we watch as, over a period of time, the effects on her and her very supportive daughter Carrie (Lauren Kellegher) in various situations.
Writer Macrae is her own mother's carer and so this, her first professionally produced play after completing Live's "Introduction to Playwriting" course last year, has an authenticity that is very compelling. There's no sentimentality, no attempt to attract applause or even sympathy; it is simply an "as it is" telling of what is a not uncommon story with all its ups and downs. It is reality and, like real life, presents us with a mixed bag of emotions but always there is the strength of the love between mother and daughter.
Under Judd's careful direction, Kellegher and Traynor create a compellingly real relationship in a piece which is, for all its subject matter, ultimately life-affirming.
The final play, Amy Golding's Everything Is Wondrous, has less obvious connection to Julia Darling and takes a very different approach. It is a verbatim piece about Jo Milne of Gateshead who, after being deaf for almost 40 years, was suddenly able to hear after receiving cochlear implants.
It's a conversation between Jo (played by Zoe Lambert) and her friend Tremayne Crossley (Phil Corbitt) which covers many aspects of deafness, of hearing, of the impact on her life, of the mixtape of music which he created for her—and here is the link to Julia Darling, for, when she finally was unable to go out any more, many people sent her mixtapes which they hoped would help her. And indeed she did write that music could take her to another place.
It's a demanding piece for the actors as for most of the time they simply sit and directly address the audience, although there is some interaction between them, but Corbitt and Lambert make it look easy.
Live's Literary Manager Gez Casey says, in the programme notes, that this evening is intended to be a "fitting tribute to a great woman," and so it is. It reflects her writing and her interests; it gives women writers a voice and, alongside established writers, directors and actors, it gives space to shine to new writers Nina Berry and Holly Reed Macrae, to young, emerging actors like Lauren Kellegher and Dean Bone, and directors like Anna Ryder.
I think she'd approve.
Reviewer: Peter Lathan