Rent Boy: The Musical
Book and lyrics by David Leddick, score by Andrew Sargent
Above the Stag Theatre
–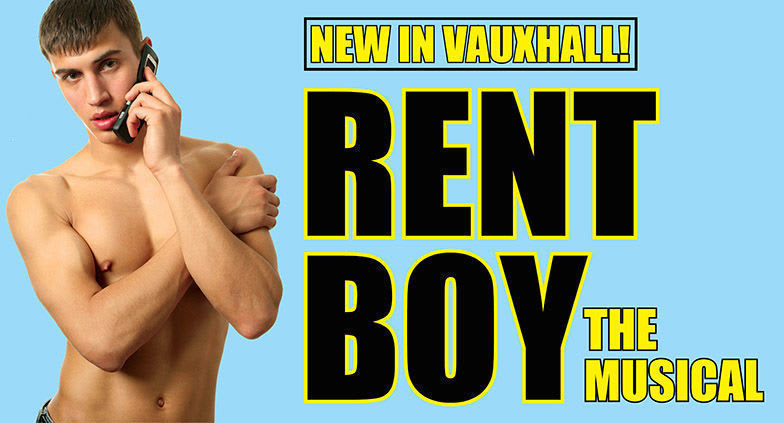 This is what you might call a concept musical: the concept that a gay audience will come to any show with Rent Boy in the title but, though it is simplistic, superficial and formulaic it is also fun if you are looking for a light-hearted laugh.
There is just a smidgen of plot that momentarily emerges from what is basically a revue-style show around the idea of an award ceremony in which "The Hookies" (glittering glass trophies in the shape of giant size diamonds) are presented to Rent Boy of the Year and for a number of other related achievements: Best Bunny, Best Top, Best Escort and so forth.
A sleek MC, grey-haired and Germanic conducts the occasion, presenting awards and then interviewing each winner, each of whom has their own number. Frank Loman makes the MC sharp tongued and just a touch sinister. He has fun with both contestants and audience and makes the most of a drag spot like a slinky Dietrich in shiny pink paillette sequin gown, followed up by a fan dance.
It is a high-energy show with a disco vitality to the music and lively choreography that sends up its own clichés delivered with infectious enthusiasm by the whole company.
Cash of course is what drives things. This is not about boyfriends, as one number points out. This a business in which relationships are strictly commercial and physical, not emotional, though they can't help it if clients fall in love with them that's something these boys must never do with the client.
That's where the vestige of plot comes as one client, a non-scene broker sympathetically played by Samuel Clifford, does fall in love with Conleth Kane's Devon Williams. Against all his intentions, Devon falls for him too. In a romantic duet he sings "I've given myself to so many men" but for him this guy is "all my dreams in a row".
The rest of the Rent Boys are made up of Phil McCloskey as The Master, a not so tough leather man, Lucas Meredith as Danny the MC's assistant, Aaron Jenson as Edge, Marcus Grimaldi as B/C a new boy in town, and Henry Collie as Don K Dick who claims emphatically he's straight, just making good money—as another number has it "Gay for Pay".
"Who Invented the Jockstrap?" asks the show's ultimate number. It doesn't attempt any answers but brings in the boys with diamanté dotted bulges and offers a curtain call line-up framed in feather collars in appropriate rainbow colours since the show is on in Pride Week.
Helped by the glamour and glitz of David Shield's setting and costumes, this cast delivers audience pleasers for those that are partial and has no pretentions to be anything more. It's a light relaxation from the more serious business of Pride, a bit of camp, but it is put on with polish and Conleth Kane's performance particularly sparkles.
Reviewer: Howard Loxton