Rent
Jonathan Larson
Paul Taylor Mills in association with Greenwich Theatre
Greenwich Theatre
–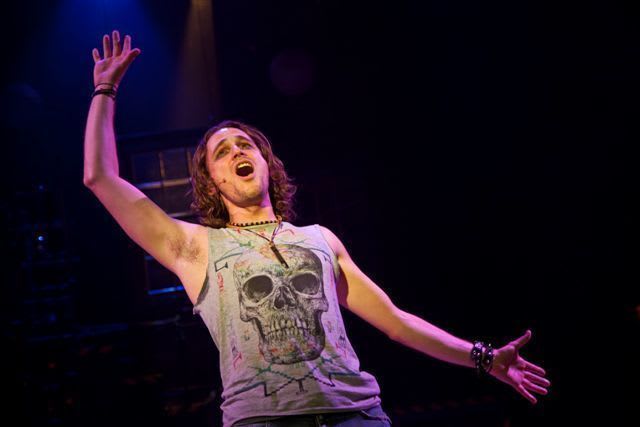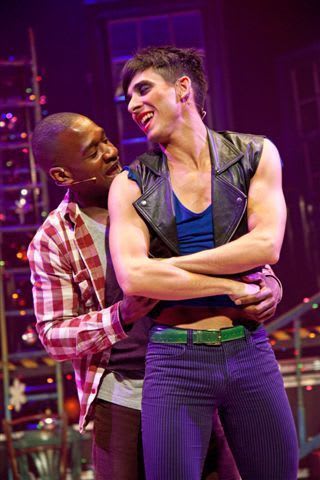 I came to this with trepidation. When I saw the British premier of Rent in 1998 I hated it; it seemed incomprehensible chaos. All I remember is being assailed by noise—was this the show that nearly closed the Shaftesbury with complaints from neighbours that it broke the law with decibels? In the days when I liked to feel the bass throb through me and risk ear damage, I went to Heaven or Studio 54 not to the theatre.
At first, Paul Taylor Mills's revival also made me long for earplugs and surtitles or a signer but, a couple of numbers in, when gay-bashed Tom Collins is comforted by Angel ("You OK Honey?") things quietened down and with Roger's "One Song Glory" I was quite won over; only four numbers in, nearly 30 more to go and they'd got me!
Rent is loosely based on Puccini's La Bohème (itself based on Henri Mirger's novel) and is equally operatic in its ambition, being almost through-composed by writer, librettist and composer Larson, who sadly died suddenly the night before its Broadway premier which came just a century (bar a few days) from that of the opera.
It transposes the story to New York's East Village bohemian quarter. Mimi, the only character whose name remains unchanged, has HIV and a drug problem, not tuberculosis, and songwriter Roger, the Rudolpho character, is positive too. He rooms with film-maker Mark, who tells their story.
Among friends and neighbours are gay part-time professor Tom and his lover drag queen Angel, lesbian lawyer Joanne and girlfriend performance artist Maureen while Mimi is no shy seamstress but a dancer in an S & M show, whom Roger gets to know exactly as in the opera but with an extra subtext ("Light My Candle"). They live in a world of drug dealers, Addicts Anonymous, AIDS Life Support meetings and troubles with landlords, but they know how to enjoy life too.
On a stage painted with a fragmenting Stars and Stripes against steps and bridges edged with danger warning tapes that sometimes get lit up like a Christmas tree, set and costume designers David Shields and Andrew Beckett produce a scene that is vibrantly eclectic, characters picked out by Stuart Pardoe's selective lighting. It is a sustained barrage of energy, driven by the music and Richard Jones's choreography, packed with emotion with the action sometimes spilling out into the auditorium but always carrying the audience with it.
There are some outstanding performances, especially Edward Handoll's Roger, Mikel Sylvanus's Tom, Gary Wood's Angel and Zoe Birkett's Maureen (hilarious in "Over the Moon") but this is an ensemble show in which everyone—and that includes the band—is giving their best.
On press night, sound balance could have done with some tweaking—there was some distortion of voices at high volume and sometimes the lyrics were incomprehensible—though sadly that's often the case with modern musicals. It is a pity, for Larson writes some good ones. I'll always like a writer who can make his film-obsessed Mark talk of "the 3D flicker on the Imax of my mind" then puncture his pomposity by adding "that's pathetic!". Benjamin Stratton delivers it beautifully.
Rent is a show that has had a cult following. I thought it was out of my comfort zone and nearly decided against accept an invitation to review. I am glad that I didn't. You couldn't help but be won over by the energy of this production, its joyousness, for though much of its content is tragic and touching it is at the same time celebratory and life affirming and this production deserves a much longer life than this short run at Greenwich: but for now, grab a ticket if you can.
Reviewer: Howard Loxton