Repentance / Behind the Lines
Mediah Ahmed / Neil Daley
Angle
Bush Theatre
–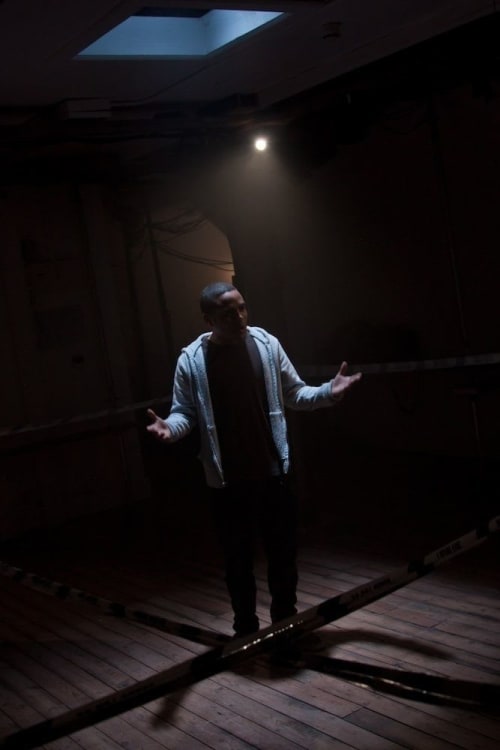 This double bill is performed in the new theatre's upstairs studio with an audience standing or with their rears propped on ledges like monks on misericords. Although theoretically you are free to move, this is not really a promenade (especially when half the necessarily small audience choose to sit on the floor) but it is very intimate. The plays themselves are also pretty compact. They follow each other without any interval and together run not much more than 45 minutes.
Repentance is made up of a number of very brief scenes which director Blanche McIntyre has given an intriguing formal framing that suggests both a Peeping Tom look into private territory and the characters breaking out of the structures that limit their lives.
It focuses on a modern young Moslem who takes her religion very seriously. "I want to know God," she says and thinks about things for herself and sees science and religion as a pairing, each needing the other. She is very intimate with her boyfriend but shocked to detect alcohol on his breath and their relationship leads to a terrible dilemma.
Mandeep Dhillon and Ade Oyefeso as the girl and the boy give their characters remarkable freshness within the formal framing and it is good to see debut dramatist Mediah Ahmed making telling use of scenes without dialogue.
Behind the Lines is set on the street and Neil Daley has a good ear for contemporary youth-speak. At first mates Fahzad and Keith come pushing through the crowd followed by fast-talking Michelle non-stop on her mobile, then Laurence,whom later we find takes life more calmly and thinks bad things "don't happen when people feel at ease". But it is not long before there is an incident in the darkness and police close off most of the space with incident tape. While the others speculate on what has happened and who was involved, in moments of flashback a young boy dives through trying to outrun his pursuers.
This look at knife crime is not about how and why but about the way it has become part of life and how it affects those we know. It is played with vitality and a physical exuberance that demands great control from the actors when being so physical this close to an audience. Mandeep Dhillon is very funny as the phone freak without losing her reality—and she is significantly at the heart of the tragedy. Femi Wilhelm gives Laurence a gentle gravity, Shane Zaza's ever-hungry Fahzad and Ade Oyefeco's Keith are straight off the street and Daniel Anthony, like a terrified rabbit, makes us share Darren's panic.
These two short plays are the fruit of Angle's search to discover new talent and unheard voices from West London, having last year made a similar "call for plays" across East London boroughs. This year they received 129 plays of which 80 were from writers outside the theatre network and drew responses from Polish, Caribbean, Irish, Pakistani and Nigerian writers. All were given feedback and advice and seven shortlisted writers attended a masterclass at the National Theatre Studio.
Reviewer: Howard Loxton