The Bench
Joe O'Byrne
Re:Play Festival
Library Theatre, Manchester
(2009)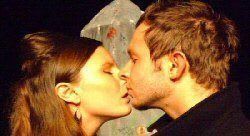 Joe O'Byrne directs a cast of six actors in a revival of his play set around a bench in a Manchester park over a twelve month period, originally seen at Studio Salford.
This is just one of O'Byrne's works set in the fictional community of Paradise Heights, and it does not so much tell a story as show snatches of the lives of various people who pass through the park. However this is not just a series of sketches; many of the characters reappear, or interact with different characters later on, or are referred to in conversation.
Wendy and Jeff are having trouble in the bedroom and so perform S & M role-play games in the park to help get him in the mood. The ghost of Corny is so attached to the place where he grew up that he doesn't want to go back "up there", plus he has fallen for Shirley, the person who tells him off for interacting with living people. Two old men meet regularly at the cenotaph and have their soup together, even when something tragic happens to one of them. Two local thugs, Matty and Jake, plan a robbery based on what they have observed and heard from the bench. Gabrielle, a pathetic, homeless petty thief stealing to order for Matty, turns out to be, we find out when she talks to homeless Eric who is besotted with her and doesn't know how to tell her, a talented artist.
There are some obvious links that could be made with Jimmy McGovern's TV series The Street, which looked at the lives of different people on the same street, and there does appear to be an influence of Jim Cartwright's earlier works such as Road and Two in the setting, subject matter and style of performance. However the piece is accomplished enough to stand apart from these influences and work very well on its own.
The production is very polished with nice variations in pace in the detailed direction, a simple set and costumes that look designed rather than cobbled together and a superb cast almost all playing multiple roles, each clearly defined and different from the others. Of all the performances so far in the Re:Play Festival, this is the one that looks most like the quality of production and script that we would expect to see on the main stage of one of our region's leading theatres outside of an event such as this one.
Set designer Ian Curley plays a wide range of roles exceptionally well, from the sexually-disabled Jeff to local gangster boss Frank, and from old man Lennie to slightly pathetic but loveable street sweeper Colin. Stella Grundy, who recently revived her Nico Icon Play at the Lowry in which she played the title character, also creates some wonderful characters, including Jeff's patient partner Wendy and depressed Janice taking her first trip outside since losing her Barry and perhaps finding someone new. Clyve Bonelle gets all the humour out of the rather pathetic character of Eric, but also gets plenty of audience sympathy over his yearning for Gabrielle, played nicely by Phoebe Marie Jones. The cast is completed by Ben Hood as deceased Corny and Ste Myott as obnoxious thug Matty, apparent hard man with a dark secret Kev and old man Archie.
The play isn't without its flaws, but overall it is very well put together and superbly performed to create a very funny, moving, thoughtful piece of theatre that deserves a wider audience.
Reviewer: David Chadderton