Retreat
James Saunders
Hidden Pearl Productions
New End Theatre
(2007)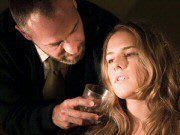 The title says it all.
Harold (Gary Mackay) moves to a remote Welsh village together with his daughter Debbie, whom we hear (voice by Ellie Hale) but never see.
An austere front room is the location where physical and emotional "retreats" are shattered by the unexpected arrival of the young impetuous Hannah (Alix Wilton Regan). Following her parents' untimely death in an air crash, Hanna went on tour of the East with her brother.
Hannah, we learn, is the daughter of Harold's best friends. She tracked Harold to find out a few home truths and reclaim the "pact" he made with her late parents, namely to look after her and her brother as if they were his children.
That might have been easy had he not held an intense dislike of her brother and, besides, he has his own problems. Misfortune played an active role in his personal life and now he has to look after his disabled daughter, Debbie.
Elgar's cello concerto fills the room with the only sense of tenderness. Skeletons from the past come to life in a tiresome way.
Fortunately for the two there is ample supply of Malt and Teachers whisky. It adds a sense of intimacy which seems to fluctuate between paternal to sexual.
There may be a hint of a Chekhovian inspiration yet the play lacks depth, humour and inspiration.
Reviewer: Rivka Jacobson