Return of the Soldier
Music by Charles Miller Book and lyrics by Tim Sanders based on the novel by Rebecca West
Aria Entertainment, Guy James, Katy Lipson, Penny Rock Theatre Productions, Jermyn Street Theatre
Jermyn Street Theatre
–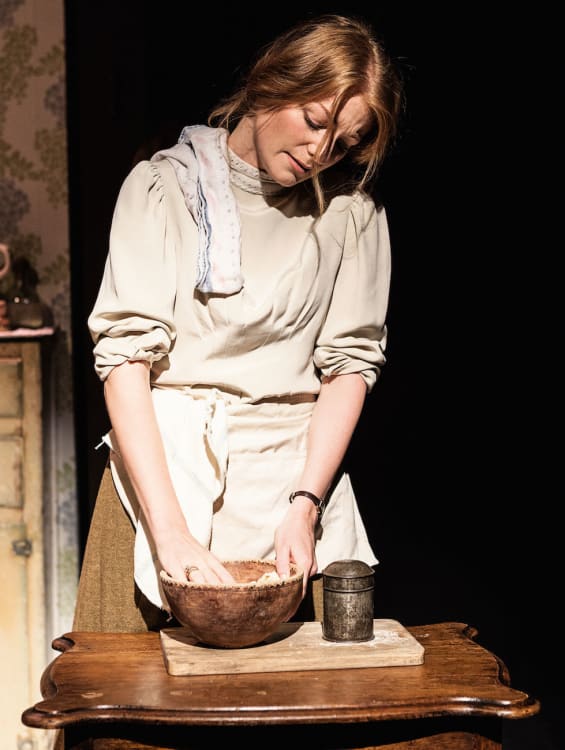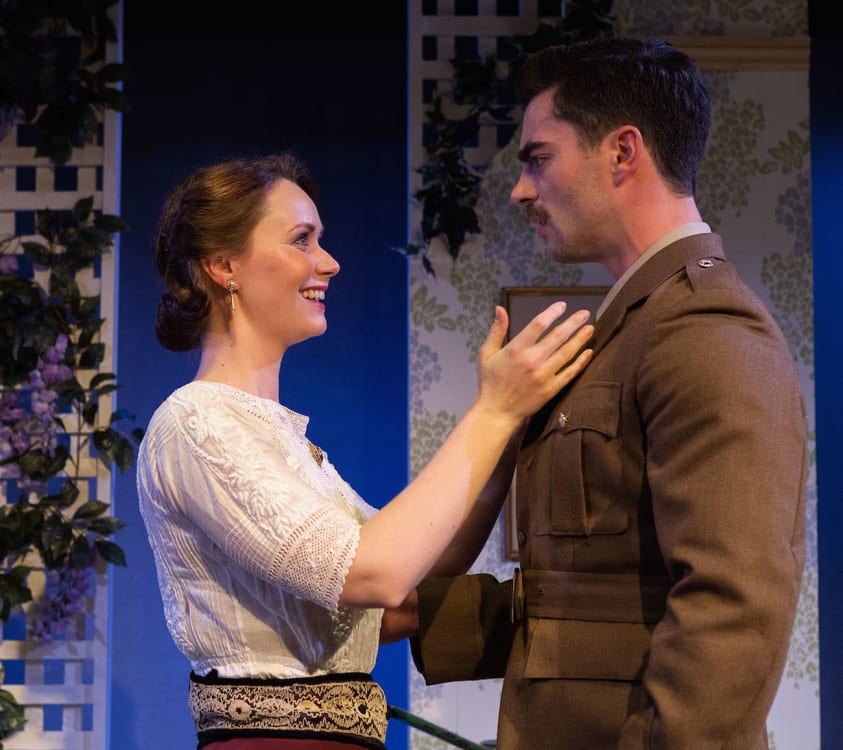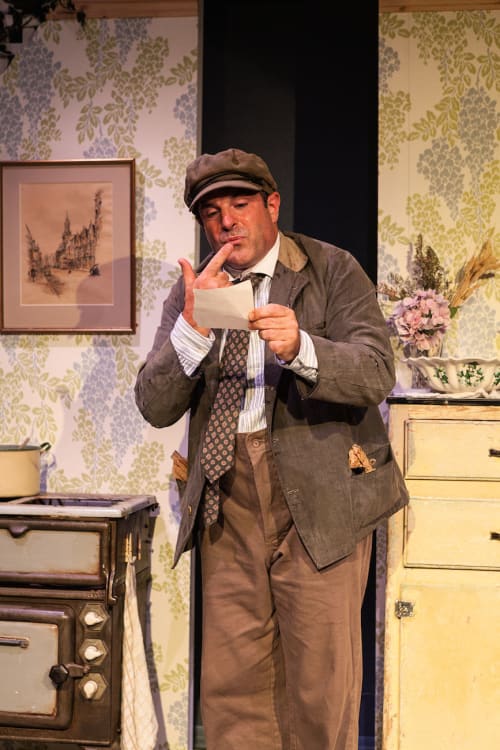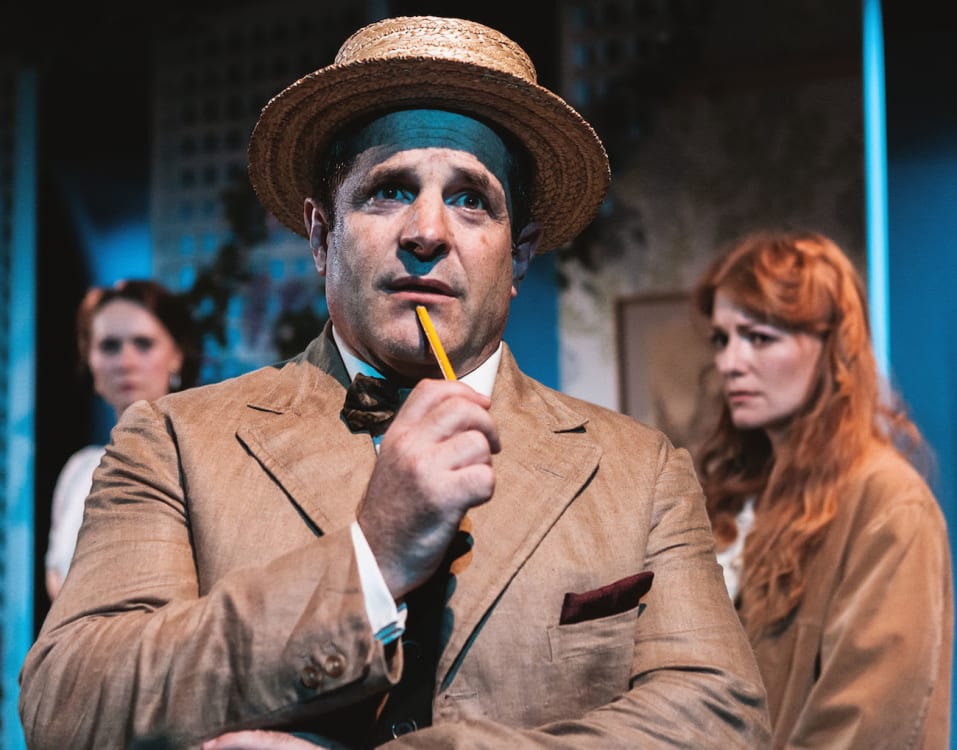 Rebecca West's first novel, written and published in the last year of the First World War, is about an army Captain who has suffered shellshock and lost all memory of a large chunk of his life.
Unlike the theatre, where plays had to be passed by the Lord Chamberlain's office, literature was not subject to censorship. Captain Baldry's cousin Jenny, who narrates the novel, knows of the horrors that are taking place across the channel. This left-leaning writer presents a view of war and its effects and of the contrasts in British society that gives the work a lasting relevance as well as emotion depth.
Tim Sanders's adaptation follows the essence of West's story, reshaping it as theatre. He bringing its characters together, even when in quite different locations, so that musical ensembles can explore and contrast their individual reactions to their situation.
Charles Miller's music, with its melodic trios and quartets, has an operatic edge without every being melodramatic. The circumstances and the mood are essentially domestic and Charlotte Westenra's production creates an intimacy that is entirely appropriate. It uses this challengingly small space in an interesting manner with a set by Simon Anthony Wells that suggests multiple locations.
The three women, wife Kitty, cousin Jenny and a former lover Margaret, all sing as they wait for the "return of a soldier", but it is working class Margaret who has been informed of Christopher Baldry's imminent return and comes to break the news to his wife.
Years earlier, (fifteen in the book and here I think reduced to seven, which permits younger casting) Margaret and upper class Christopher met on Monkey Island in the Thames near Bray and fell wildly in love. But they lost contact and now she is married to devoted but ordinary William Grey and living in Wealdstone.
Christopher has no memory of Kitty or their marriage, though he does remember childhood playmate Jenny. He has returned expecting to find Margaret and marry her and it is clear she feels passionately towards him.
Margaret's struggle between her reawakened, in fact never lost, love, her loyalty to her husband and the rights of Mrs Baldry is touchingly played by Laura Pitt-Pulford in a compelling and heart-breakingly sensitive performance. Zoë Raney as Mrs Kitty Baldry is smugly upper class and arrogant but finds a way of gaining sympathy for her predicament. Although Charlie Langham's warm-hearted Jenny seems to be more understanding, Kitty is only acting as her class was brought up to behave.
Stewart Clarke's handsome Baldry has an attraction that makes It clear why he is such a charismatic figure for all the women, which increases the effect when he is overcome by memories of the trenches.
Michael Matus's William Grey could not be more of a contrast. His kindly blandness and dependence are gently presented but his constant slicking of his hair is a tic that helps to share the frustrations that Maggy feels. This isn't funny, it is awkward, and by verging on caricature is a reminder of how the wealthy saw those below them.
Matus however, doubling the role of psychiatrist Dr Anderson, does get the chance to be really funny in a number that looks at the gardening tastes of the upper middle classes. It is one spot of humour in a show that is essentially serious, but Anderson is also there to make serious comment, not least in questioning his role in "curing" those whose minds have been damaged when its purpose is only to return them to action, back to the trenches.
Even though the band consists only of musical director Simon Lambert at piano and either Sarah Bowler or Natalie Hancock on cello, this is a score that is musically complex. Just occasionally, the flurries of notes swamp the singers and there were times when the intensity of performance became so concentrated that voices risked being inaudible but these actor-singers always sustain attention.
The delightful score is like the bittersweet mixture of sunshine and rain of an English summer with a peaceful nostalgia interspersed with the women's agitation that emphasises the contrast between the romance of Monkey Island and what Captain Christopher Baldry will be sent back to.
Reviewer: Howard Loxton