Return to the Forbidden Planet
Bob Carlton
Ovation
Upstairs at the Gatehouse
–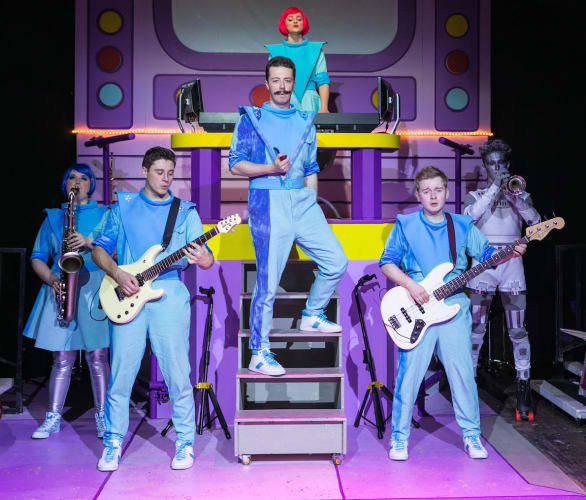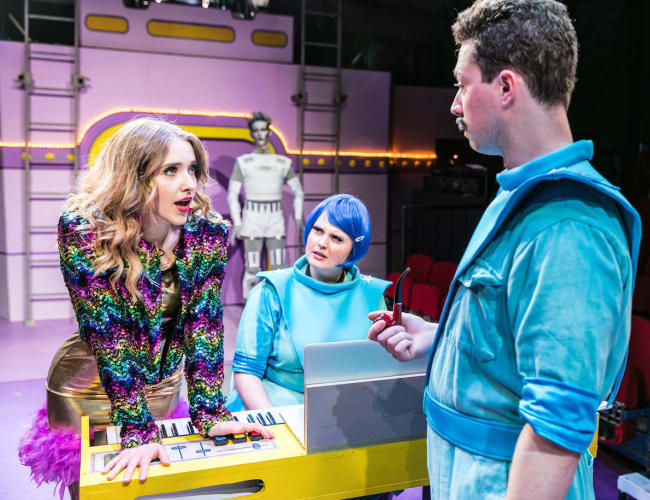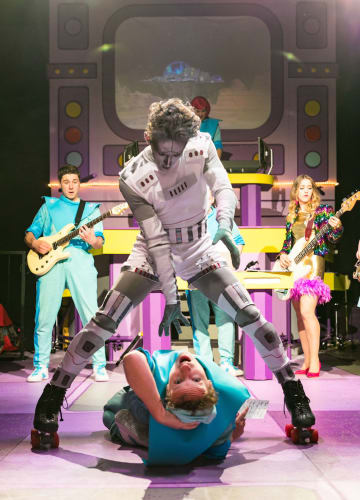 Billed as "Shakespeare's forgotten rock 'n' roll masterpiece", this reworking of Shakespeare's The Tempest, studded with rock and pop chart hits from the '50s and '60s and loosely based on '50s sci-fi film Forbidden Planet, won the Olivier Award for Best Musical in 1990. It has seen several revivals, though this is the first time I've been exposed to it! I wonder why? After all I like both Shakespeare and Science Fiction and I remember most of these songs from when they were new sounds!
John Plews's production is not just a nostalgia trip to the '50s and '60s—though the songs get a vibrant performance from a cast who all seem to play multiple instruments as well as sing and dance—but a lively and entertaining evening.
With a plot that takes bits from The Tempest, throws in some King Lear and Romeo and Juliet (including Angela Rippon as Chorus seen on screen as an intergalactic TV newsreader), it delivers a story a little more logical than the b-picture movie that inspired it; it steals lines from across the whole works of Shakespeare and makes up some more with the same rhythms and rhyming.
Designer Amy Yardley has done a great job in recreating a '50s view of the future, more Thunderbirds than Star Wars, including a many-limbed monster with comic death throes, Technicolor hairstyles and a silver-skinned robot Ariel (a splendid performance on roller skates from Simon Oskarsson) who has been created by Chris Killik's Dr Prospero.
This Prospero is a mad scientist who has been cast off earth by his wife Gloria (who at first seems to be the villain of the piece). He is working on developing telegenesis, creating living creatures from the thoughts emanating from the Id. Now he is on the planet D'Illyria with his daughter Miranda (Stephanie Hockley, who makes a quick transformation from innocent child to flirty teenager). It is on D'Illyria (and yes, there are borrowings from Twelfth Night) that the space ship Albatross makes a crash landing that may not be entirely accidental.
The Albatross is commanded by Captain Tempest (Alex Fobbester, who confidently handles his iambic pentameter, pointing his meaning with his pipe), a man whom Miranda soon dotes on. It is crewed by a Navigation Officer (Emma Fraser), Bosun (Guy Freeman), Cookie (Edward Hole) who falls for Miranda in a big way, Mike (drummer David Persiva), Bud (Lewys Taylor), Penny (Rhiannon Hopkins) and the new Science Officer (Ellie Ann Lowe) who turns out to be Gloria. Almost everyone seems at home on electric guitar, drums and keyboard—plus a couple of saxophones and a tambourine.
I won't tell you what else happens but it is all lively mayhem, resentment, romance and a riot of music with an extra level of pleasure for those who know their Shakespeare in recognizing from whence each line has been lifted, enjoying the re-coinings and newly invented verse.
There is a point when it reaches Prospero's farewell speech that it seems to be ending and what comes after seems a little drawn out and times when the drumming and guitars drown out the lyrics (though that didn't matter—the audience all seemed to know them). I'd never thought myself a rock fan but I loved it and found myself joining in a standing ovation, for this is a multi-talented company.
Great Balls of Fire! It's full of Good Vibrations (and more than 20 other hit songs) and packed with energy that explodes on stage: John Plews has made it into a joyful celebration.
Reviewer: Howard Loxton