The Return of the Exile
Devised and directed by Ioli Andreadi
One Way-Eutopia
The Yard Theatre
(2011)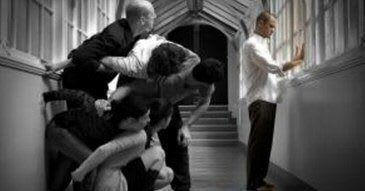 Ioli Andreadi is Greek but her play draws its inspiration not from George Seferis's well-known poem The Return of the Exile but from a painting by Ukrainian artist Ilya Repin (1844-1930) They Did Not Expect Him which shows a man's return from a gulag to an uncertain welcome. In an arc which takes us from the prisoner's arrest on his own birthday to the day five years later when he reappears. Details in this staging make this a modern British family and references to Guantanamo Bay and the voices of US politicians add particular relevance but the circumstances could be in any country at any time. from Tsarist Russia to the Generals' Argentina, Franco's Spain to Pinochet's Chile, the Greek dictatorship to Burma.
It is not a political piece that presents an argument for or a protest against imprisonment and torture and it gives no context or motivation for the man being arrested, whether jihadist, anti-fascist or libertarian, though there is an underlying theme that writers, painters and other artists - theatre too - are dangerous, especially to authoritarian regimes. When the man is arrested his father declares, "I had no choice" but whether he has been an informer to the authorities or exactly what he has been compelled to do is not made explicit, just that there is trauma and guilt involved. This is not polemical; what we are shown is the effect on the members of the prisoner's family and the interest of the production lies more in the way that is shown that in the scenario that contains it.
At first the family is posed, each in isolation, about the stage while an artist begins to draw each of them on the plain white wall behind them. A stylized naturalism presents us with a mother with a birthday cake, a younger sister who fetches candles, a younger brother and a silent father while the eldest brother Leo lies writing in a notebook. The words he reads come out as rather high flown and pretentious but he is representing the artist, talking of "capturing your soul" in his writing or drawing. The dialogue with his younger brother develops into cadenced repetitions and, following the arrest, language loses any vocabulary and becomes simple sounds, something akin to the.'nai' and 'min' that in Greek mean 'yes' and 'don't' but that here become mere sounds, the actors increasingly using their bodies and actions to communicate.
Television football games and soaps occupy their interest and emotion, the modern "opium of the people" with the voices of commentators, shouting fans and banal TV dialogues skillfully used in Giannis Paxevanis's soundscape along with Obama sound bites and carefully placed telephone rings. The actors - Burrows, Luke Harrison, Konstantinos Kavakiotis, Rahil Liapopoulou, Melina Theocharidou and Duncan Wilkins (there was no programme to indicate who plays which) - demonstrate the kind of ensemble confidence that enables them to integrate their physicality with fast and violent expressiveness that constantly holds the attention.
By the time the shattered torture victim returns, the artist Sarah Edkins, who also designed the show, has covered with the back wall with full length figures and adds the legend "They did not expect him" and the audience has shared a rollercoaster of emotions. Exactly how they interpret them will differ for every individual, shaped by their own experiences and political belief. It is unlikely that anyone who comes to see this work will be an advocate of imprisonment for political reasons, torture and the deprivation of human rights. The Return of the Exile doesn't need to argue a case but it may add to their understanding of the effect that these things have on the wider society and the individual and it certainly provides a stimulating theatrical experience.
Originally developed and presented at Lincoln Center's Theatre Lab in New York two years ago, The Return of the Exile was briefly seen as part of a Director's Showcase at the RADA, following a successful run last year in Athens. This London presentation is part of a season at a new theatre in Queen's Yard, close to Hackney Wick Overground station, which has been converted from a dormant warehouse, which opened in July and will host shows until the end of October. It was converted by Practice Architecture using recycled materials from the Olympic Park and the surrounding area making a simple but friendly performance space with a bar/café, which surely could relocate to another temporary site if one is available.
"The Return of the Exile" runs in repertoire at the Yard Theatre until 26th October 2011
Reviewer: Howard Loxton