Returning to Haifa
Adapted from the novella by Ghassan Kanafani by Ismail Khalidi and Naomi Wallace
Finborough Theatre
–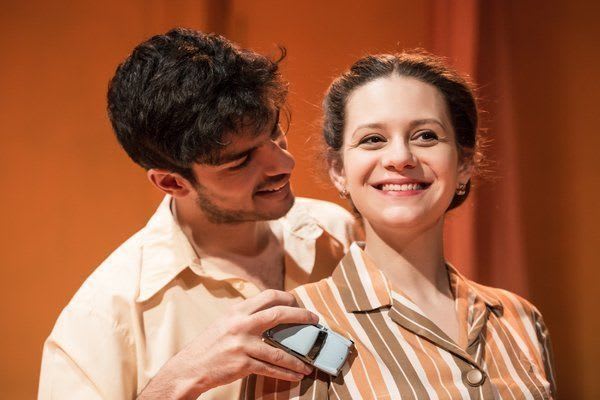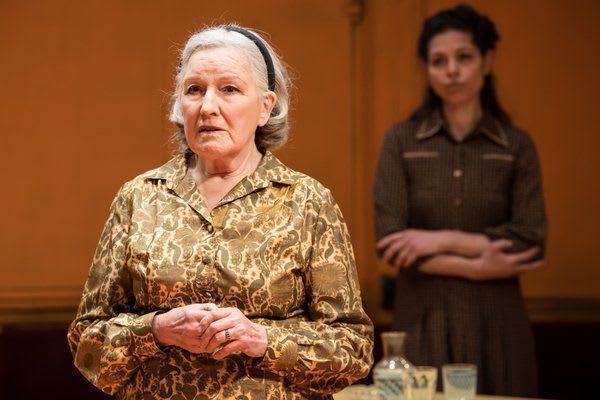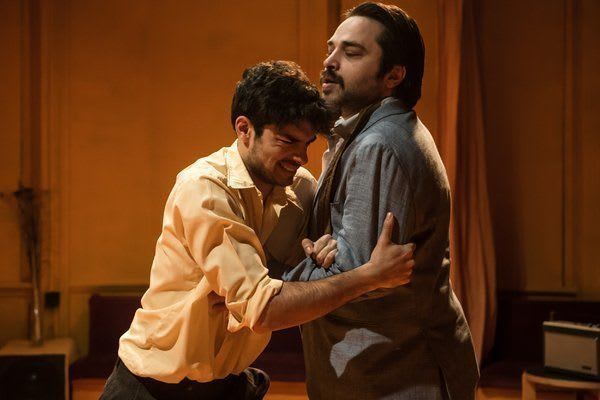 Ghassan Kanafani was a Palestinian writer and political activist who was assassinated by a Mossad car bomb in 1972.
He was twelve when he was forced out of his home in Acre, like the Palestinian couple in this story driven from Haifa by Haganah paramilitary forces in the Nakba, "the catastrophe", after the partition of Palestine in 1948. Twenty years later, after the conquest of further territories in the Six Day War of 1967 led to the abandonment of the barrier at the Mandelbaum Gate, Said and Safiyya go back to see what has happened to what they called home.
Director Caitlin McLeod and designer Rosie Elnile stage this adaptation in-the-round. A peach coloured space is cut across by a peach curtain that half the audience must pass through to reach their places: a partition that even when opened remains in the mind as a frontier, a barrier.
Said (Ammar Haj Ahmad) and Safiyya (Myriam Acharki) are there but also their younger selves (Ethan Kai and Leila Ayad). We are in Ramallah in 1967 and Haifa in 1947 at the same time, memories vivid as they drive to Haifa where the streets have new names. Now a Jewish woman from Poland whose father died in Auschwitz and whose brother was shot by the Gestapo lives in their house with the things that they left behind them, perhaps with the baby they never meant to abandon.
The play is perhaps a little too consciously constructed and too much a vehicle for rhetoric so that words block rather than express feeling but it still has a powerful impact, physicalisation of a tragic but still ongoing situation.
There is a point where the elder pair blindfold the younger as Said tries to get home and Safiyya goes out looking for him. It's a way of showing them trapped by uncontrollable circumstance, robbed of choice, but it's a confusing image.
Sometimes the older Said doesn't yet seem to quite own what says, though in some ways that helps to emphasise his situation and his performance grows stronger as he faces what he believes is his son in Israeli army uniform (though the fact that his younger boy back in Ramallah is also toting a weapon with the Fedayeen could be made clearer).
This isn't a play that takes sides; it paints all its characters fairly. Miriam, the Jewish refugee played by Marlene Sidaway, is kindly and caring. She was given their home by the authorities, she didn't steal it. That doesn't mean that the situation is any less painful.
Written nearly fifty years ago, Kanafani's book has a specific background but sadly this is a story that has many parallels: Cyprus for instance, the former Yugoslavia, the Indian subcontinent (as in Suman Buchar's play A Child of the Divide last year) the Greek and Turkish forced migrations of 1922. Today's refugees: what will they find if they can ever return to the homes they have fled from?
When the play starts, Said wants to put the past behind, get on with life now, but it is he who is aware of things, who voices any argument. Safiyya, with her husband not always translating what is actually being said, who lost her baby because of her concern for her husband's safety, who has another teenage child to place her hopes on, says little but in her silences she seems to be asking "Why?"
The son who calls himself Dov (but they think is Khaldun) talks of blame, of "mistakes" that make them responsible. It is a young view of an older generation, but when will we stop making them?
Reviewer: Howard Loxton