Revue Z
Written and performed by Zoë Martlew
Giant Olive Theatre
Lion and Unicorn Theatre
(2011)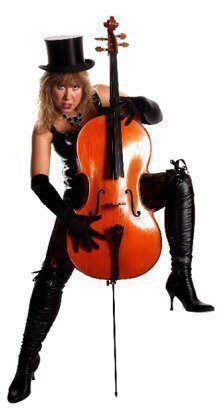 Contemporary theatre often puts great demands on its performers in requiring multiple skills. Zoë Martlew has no problem fitting the bill for she is cellist, composer, writer, singer, mime and monologist.
As she makes clear to her audience at the beginning of her show, it really is all her own work. Even her backing is provided by multi-track recordings which she made herself on a variety of instruments and objects.
Actually that is not strictly true: there is obviously input from director John Baxter, some guest musicians on some of the backing tracks, technical support with recording and at the theatre and the assistance of a costume maker, but in every way it is very much her show and she displays a real diversity of talent.
Revue Z is as eclectic as its performer's abilities. The set is a dim-lit smoky boîte, draped with exotic silks glinting with gold pailletes. From the first sight of a slinky silver leg-hugging boot entering, Zoë sets about seducing her audience. But she has no sooner encouraged us to liberate our libidos than she is performing a version of Danny Boy by blowing over bottles, at least for those notes she plays live. We get a send up of bad amateur playing with a solo performance by Marge, third cello of the Woking Philharmonic whose just been demoted to the back row and in "Wigmore Hall" she presents a pretentious looking woman succumbing in horror to some screechingly "modern" music - both of them character cameos. There is a teacher turning into a dominatrix, a violent outburst against an unfaithful married lover, a brilliant quickie on that old advice that (performers especially) - or something like it, I'm not going to ruin the joke.
There is a lullaby she wrote "Salat Babilya" (Babylonian Prayer) in which she attempts to replicate the sonorities of the Middle Eastern Oud and a frenzied jazz-influenced piece where she plays the cello like Stephane Grappelli on violin. Another high spot is a delightful quickie on that old advice to actors and musicians that they should always have a second string to their bow - or something like it, I am not going to spoil the joke. Only one baroque-like piece shows her off as a more traditional cellist, and that is a pity for she is a good one, but she probably feels she has enough of that in her regular work and this is her more zany side.
Zoë sets herself a prodigious pace at which to deliver her text - and since her backing is pre-recorded she has to keep to it, and it goes so fast you can't catch everything and there is no space for audience reaction. She wore a mike but in this small venue she might have been better without it, for there were times when she needed a little more of the projection evident elsewhere. Consequently I am not sure that her text is quite as clever as she thinks but she has a very strong personality and confidently exploits it.
Moving from pink frilled skirt to top hat, black plastic bodice, black tutu and black lace tights, neck dripping with diamante, or countrified Marge with her feather headdress, she is always very much in your face. In fact this is in some ways more intimate cabaret than revue. If you are in the front row you may even get a chocolate! Even without that bribe her audience took her to their hearts.
"Revue Z" is at the Lion and Unicorn Theatre until 1st October. An extended version will follow at the same venue 20th-21st November 2011
Reviewer: Howard Loxton