Reykjavik
Jonathan Young
Shams
New Greenham Arts
(2010)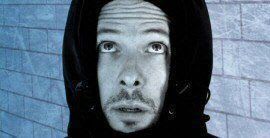 Shams' production of Reykjavik was an amazing theatrical experience. From the moment you were asked to don white hooded forensic suits and were handed goggles in the foyer you sensed that you were going to participate in a unique encounter.
Ushered into the auditorium by similarly clad actors the audience stood behind a white cloth waiting in anticipation, not knowing what to expect. A series of coloured lights and images were projected onto the cloth with voices amplified and telling a story about Iceland and then performer Jonathan Young appears through the white 'glacier' and welcomes us to this inhospitable land and we all go under the cloth into a new fresh world and are invited to explore. There are mirrors on wheels, a large bed, a sink, clothes hanging, candles burning on a Buddhist shrine and a white floor marked in squares with numbered stickers in them; numbers that correspond to the ones on our suits - intriguing.
Young is a consummate storyteller and performer. Slowly the fragments of his life are revealed and rather like forensic scientists the audience piece together his story. He visited Paris and fell in love with a beautiful woman who was separated from her husband and has two children. We are asked to participate in a dance class and discover that we must: "grasp your future, let go of the past and it will lead to freedom."
For Jonathan (known as Y) this leads him to Iceland where he tries to continue his seduction of his lover known as S with turbulent results. The picture created is one of extremes, ice-cold weather, hot springs and swirling mist as the audience move from the bedroom in their flat to the geometrical labyrinth of the Sundhollin Swimming Palace's changing room in true promenade style theatre, using the whole of the performance space as Y's story unfolds, guided by the other two 'actors', Steve Loader and Sinikka Kyllonen.
The car crash scene in which the audience had to wear their goggles with blurred lenses with the accident suggested by coloured lights and a startling soundscape (Adrienne Quartly) was a frightening play on the senses.
Essentially this is a play about memory, not only what we remember, but how we remember and in what order. Its concept is beguiling and challenging with inventive staging and clever use of multi-media projections (Paul Burgess) and atmospheric lighting by Katherine Williams.
Inventively directed by Carolina Valdes and Lucinka Eisler this was a moving, thought provoking experience.
"Reykjavik" is touring to the Bongo Club at the Edinburgh Festival Fringe in August
Matt Boothman reviewed an earlier version of this production in 2009
Reviewer: Robin Strapp