Rhyming Gods
Adrin Neatrour
Mamon Productions
Low Lights Tavern, North Shields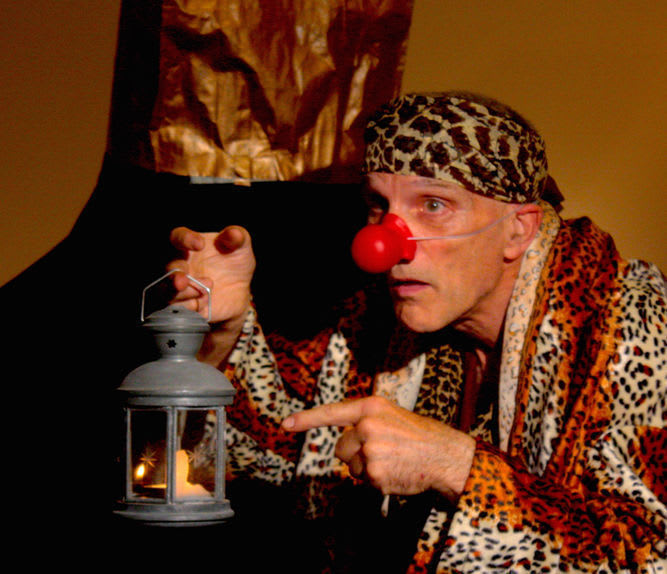 Adrin Neatrour's quirky one-man plays have previously taken on stories by Kafka and Dostoevsky, investing them with the comic and the grotesque, evoking both the clownish and the intellectual.
Neatrour's expressive face, body and voice are perfect vehicles for this kind of thing; he can within minutes put us at ease then make us squirm in our seats.
In Rhyming Gods—Songs of Job and Zarathustra, Neatrour goes for the big one. His topic is God (not a regular character in stage plays) and he wants to know where he is and how come we never see him?
Early on, the actor warns the audience that they may not like the way the play handles the subject. We are at liberty to leave and claim our money back. Several people in the intimate and initially packed Low Lights venue did leave during the 50-minute performance, including two vociferous, wise-cracking laddos who lasted only five minutes once the penny dropped this was quite unlike Eastenders or the local stand-up club. No-one incidentally asked for a refund.
Drawing on the Book of Job and the Zarathustra story and dressed in a long thin leopard-skin coat, red nose and headband, the actor moves constantly about the stage, occasionally climbing up a totemic black-draped structure. He embarks on a journey of exploration taking in the Bible and Nietzsche among others, aware that such potentially heavy stuff does need a light touch, hence the cavorting, the song and dance, the nursery rhyme, the constantly changing voices and expressions.
The conclusion is that humanity has killed God and we are then led to the inevitable second conclusion that the same humanity is now killing the earth. This first conclusion is reached, despite the vigorous animated movement, via a somewhat meandering and repetitive process, whereas the second conclusion is given too brief attention.
Man needs God, the piece seems to be saying, but then the more provocative second claim is that God needs man. Discuss.
The performance on many levels is a remarkable tour-de-force, but at 50 minutes it's a good 15 minutes too long. Neatrour writes, directs and performs which gives him control over his work but also robs him of the detached outside eye a director would bring. A sensitive director here would have taken a blue pencil to an often vividly written script, cut off the excess fat and left us with a tight, comic and thought-provoking piece of original theatre, thereby reducing any risk of it losing its audience.
Reviewer: Peter Mortimer