Rian
Choreography by Michael Keegan-Dolan, musical direction by Liam Ó Maonlaí
Fabulous Beast Dance Theatre and Sadler's Wells Theatre
Sadler's Wells Theatre
(2011)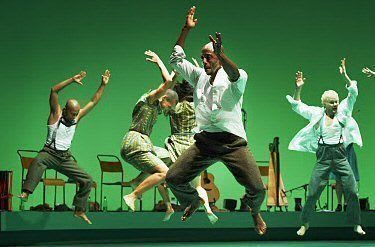 This is at heart a fest of traditional music, played by five fine Irish musicians, and the response of eight talented dancers to it, or sometimes the music responding to their energy and moves. Don't think Riverdance, nor the traditional rigid, straight-backed step dancing that Michael Flatley freed-up, not least in that this is barefoot. But it is equally as far from the speech-studded dance narratives with which Fabulous Beast made its international reputation as it is from Flatley. If there is a narrative here it is one of interaction between dancers and between dancers and musicians, of momentary references.
For those who know what is being sung, it may be different. I don't speak Irish and don't know whether the words affect the dancer's response, mediated through the choreographer perhaps, for it is an international company and only one dancer appears to have an Irish background.
There are elements, of course, that echo the traditional steps as they respond to the rhythms of jigs and reels, but the dance vocabulary is specific to this creation. It was developed from a total of 108 natural movements that appeared when the dancers responded freely to the music played in workshops as part of the creative process. It has a remarkable freshness that often feels as though it is being improvised, then picked up by or commented on by the response from the other dancers. It is almost as though you are seeing the dance created before your eyes.
There are more than twenty items in a programme that runs for about 105 minutes without an interval. As well as arrangements of traditional music there are new compositions by Ó Maonlaí, including one that draws on Spanish Moorish tradition, and an arrangement by him of three pieces by Afel Bocoum from Mali which bring an ethnic influence to their choreography.
It is set (by designer Sabine Dargent) on an emerald ground with a green lit cyclorama, below which there is a raised arc where both band and dancers can sit, often silhouetted,. A simple domestic standard lamp adds a homely touch to balance the pianist's baby grand. Dancers and musicians (players sometimes dance and dancers sometimes join the song) can step down to join in the movement.
At first, after a recorded traditional song about a lover who has gone away, an Irish harp is placed in the centre of the stage and the male dancers silently perform low stretching movements around it, beginning what becomes an almost dedicatory opening to a programme of sheer delight that at times has the feeling of being present at a céilidh. These are accomplished dancers who make spinning hops, sinuous twists, low sweeping gestures, rhythmic jumps and all 108 movements combine with seemingly effortless energy.
There are some magical moments when some of the dancers freeze stretched near the ground or reaching high while the others continue; there are moments when the dancers seem possessed and a section when they and the members of the band line up at the front of the stage on chairs, the piper in the middle, and individually succumb to the spell of his playing with hilarious arm weaving contortions as though they are in a trance, and there are elements from an African dance drawing on agricultural gestures. There are laments and moments of plaintive longing in both song and dance but over-riding all is a tremendous and infectious sense of joy that brought a wildly enthusiastic response from the audience.
"Rian" runs at Sadler's Wells on 24th October 2011
Reviewer: Howard Loxton